Langeance is a name unique to only one small branch of the Langejans family tree.
Individuals with that surname but no separate page
Edit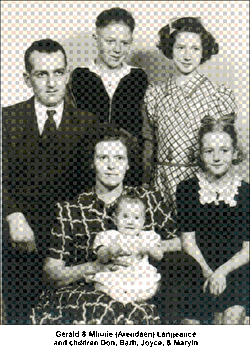 Gerald John Langejans anglicized the spelling of his surname some time before his 1930 marriage to Minnie Arendsen. After their divorce in the late 1950s, he reverted the spelling back to the original Langejans, while Minnie and the children retained the name Langeance. The only Langeance son, Donald, left only a daughter as progeny; so with his generation, the name ceases to be carried on.
External links
Edit
Ad blocker interference detected!
Wikia is a free-to-use site that makes money from advertising. We have a modified experience for viewers using ad blockers

Wikia is not accessible if you've made further modifications. Remove the custom ad blocker rule(s) and the page will load as expected.