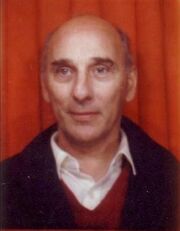 Lennart Haglund
was born
31 October
1928
in
Sofia parish
,
Jönköping County
,
Sweden
(Jönköping County hospital childbirth dept) to
Lennart Graneryd (1907-1988)
and
Edith Janulf (1908-2000)
. He married
Gunborg Östlund Haglund (1929-)
22 April 1950 in
Varberg
,
Halland
,
Sweden
.
Birth
Born out of wedlock October 31 1928 at Jönköping County hospital childbirth dept. , Sofia parish, Jönköping county, Sweden, mother´s home parish Huskvarna in the same county.
Parents
Edith Dagmar Maria Haglund, September 15 1938 married Jansson, last name later changed into Janulf.
Hans Simon Lennart Karlsson, last name 1939 changed into Graneryd, b. July 3 1907 in Rogberga parish, Jönköping county, d. September 1 1988 in Vetlanda parish, Vetlanda county, buried there at the old cemetery.
Siblings
Paternal half-sister
Ellen Margareta Svensson b. Graneryd (1946-)
Maternal half-sister and -brothers
Solveig Maria Janulf (1937-)
Björn Alf-Göran Jamulf (1940-1999)
Bengt Vilhelm Janulf (1944-)
Marriage
April 22 1950 to Gunborg Julia Östlund, b. July 1 1929 in Ytterlännäs parish, Västernorrland county.
Children
Ulf Stefan
Björn Mikael
Vanja Eva
Lena Elisabet
Education
7 years elementary school in Huskvarna, Jönköping county, Sweden. Name of the school 'Södra folkskolan' later 'Södergårdsskolan'.
Evening courses arranged by ABF (= Swedish WEA), TBV - mainly language, trade union and society matters.
Professional life
Until 19 years of age various jobs: errand boy, shop assistant, factory worker; from May 1948 - January 1993 manual worker at the bicycle factory 'Monark' in Varberg, Halland county, Sweden.
Military service
At A7 (artillery) in Visby, Gotland county 9 months during 1949-1950, also 3x1 month of refresher courses at A7 and A6 Jönköping.
Images
Footnotes (including sources)
Contributors