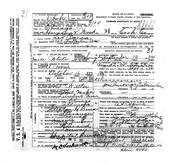 Leopold Barca (1887-1924) was a whittler in hat factory in Chicago. (b. December 13, 1887, Chicago, Cook County, Illinois, USA - d. September 16, 1924, Chicago, Cook County, Illinois, USA)
He was the son of Johanna Katrine Jensen (1857-1912) aka Katherine Jensen, of Farsund, Norway; and Steffan Barca (1860-bef1900) of Stavager, Norway. On Leo's death certificate, it shows his birthdate as October 16, 1887, but on his draft registration, his birth date is December 13, 1887.
Leo had the following sibling: Henry Barca (1886-1961) who was born on August 18, 1886. Henry had a different father than Leo, Katrine was impregnated by a man who wasn't her husband.
Chicago, Illinois
Edit
They appear in the 1900 US Census under the name "Barcon", living in Chicago, Cook County, Illinois. Leo never married or fathered any children. Both he and his brother worked at a hat makers and Leo worked as a "whittler" according to his death certificate.
World War I
Edit
He registered for the draft on June 05, 1917. He listed his birthday as December 13, 1887 and his job as a "whittler" at "Sepman Bro" at 530 South Troop Street. He was unmarried, tall and had gray eyes and brown hair. He was living at 2421 Artesia Avenue in Chicago, Illinois.
Leo died on September 16, 1924 of pulmonary tuberculosis, when he was just 36. He appears in the Illinois Death Index as number "6023633". His death certificate erroneously listed his birthday as "October 16, 1887".
He was buried in Mount Olive Cemetery, Chicago, Illinois.
External links
Edit
Ad blocker interference detected!
Wikia is a free-to-use site that makes money from advertising. We have a modified experience for viewers using ad blockers

Wikia is not accessible if you've made further modifications. Remove the custom ad blocker rule(s) and the page will load as expected.