Ad blocker interference detected!
Wikia is a free-to-use site that makes money from advertising. We have a modified experience for viewers using ad blockers

Wikia is not accessible if you've made further modifications. Remove the custom ad blocker rule(s) and the page will load as expected.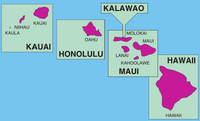 The five counties of Hawaiʻi

on the Hawaiian Islands enjoy somewhat greater status than many counties on the United States mainland. Counties in Hawaiʻi are the only legally constituted government bodies below that of the state. No formal level of government (such as city governments) exists below that of the county in Hawaii. Because education is carried out by the Hawaiʻi State Department of Education

(and not a function controlled by local school boards like the other 49 states),[1] property taxes and user fees collected by the counties support mostly road maintenance, community activities, parks (including life guards at beach parks), garbage collection, police (contrary to the television series Hawaii Five-O, there is no state police force), ambulance, and fire suppression services.[2] All the counties were created in 1905 from unorganized territory, seven years after the Territory of Hawaiʻi

was created.[2][3] The county of Kalawao is used exclusively as a leper colony, and does not have many of the elected officials the other counties do.[4]
County information
Edit
The Federal Information Processing Standard (FIPS) code, which is used by the United States government to uniquely identify counties, is provided with each entry. The FIPS code for each county links to census data for that county.
County

FIPS Code[5]
County Seat
[6]
Etymology

Population
(2000) [7]
Area
[7]
Map
 
Hawaii County
001
Hilo
Island of Hawai'i, with which the county is coterminous
148,677

( 13,175 km2)
5,087 sq mi
City and County of Honolulu
003
Honolulu
"Sheltered bay" or "place of shelter" in Hawaiian language[8]
876,156

( 5,509 km2)
2,127 sq mi
Kalawao County
005
None (administered by
Hawaii Dept. of Health)[4]
The village of Kalawao, which lies within its boundaries.[9]
147

( 135 km2)
52 sq mi
Kauai County
007
Līhu'e
Kauai Island, the largest of the islands in the county.
58,463

( 3,279 km2)
1,266 sq mi
Maui County
009
Wailuku
Maui Island, the largest of the islands in the county.
128,094

( 6,213 km2)
2,399 sq mi
References
Edit