Ad blocker interference detected!
Wikia is a free-to-use site that makes money from advertising. We have a modified experience for viewers using ad blockers

Wikia is not accessible if you've made further modifications. Remove the custom ad blocker rule(s) and the page will load as expected.
The National Capital Territory of Delhi is divided into nine revenue districts. Each district is headed by a Deputy Commissioner and has three subdivisions. A Subdivision Magistrate heads each subdivision. All Deputy Commissioners report to the Divisional Commissioner. These district are meant only for revenue collection & Administration. Delhi being a National Capital Territory of India, does not hold power to declare districts in its premises.
The nine districts came into existence from January 1997. Prior to that, there used to be only one district for whole of Delhi with district head quarter at Tis-Hazari.
The District Administration of Delhi is the enforcement department for all kinds of Government of Delhi and Central Government policies and exercises supervisory powers over numerous other functionaries of the Government. Below is the list of the districts and subdivisions of Delhi: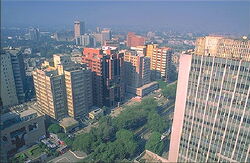 Area and Population of Districts of NCT
District
Area in Sq.km.
Population
Census 1991
Population
Census 2001
Central Delhi
23.36
656,533
646,385
North Delhi
58.92
686,654
781,525
South Delhi
249.44
1,501,881
2,267,023
East Delhi
48.90
1,023,078
1,463,583
North East Delhi
56.32
1,085,250
1,768,061
South West Delhi
420.80
1,087,573
1,755,041
New Delhi
34.95
168,669
179,112
North West Delhi
442.84
1,777,968
2,860,869
West Delhi
130.56
1,433,038
2,128,908
Totals
1483.0
9,420,644
13,850,507
Municipal Corporations
Edit
Apart from this districts exists three municipal corporations within the National Capital Territory:
References
Edit
(North Delhi District)