Ad blocker interference detected!
Wikia is a free-to-use site that makes money from advertising. We have a modified experience for viewers using ad blockers

Wikia is not accessible if you've made further modifications. Remove the custom ad blocker rule(s) and the page will load as expected.
The Indian state of Gujarat was created in 1960 out of the 17 northern districts of the former Bombay State: Ahmedabad, Amreli, Banaskantha, Bharuch, Bhavnagar, Dang, Jamnagar, Junagadh, Kheda, Kachchh, Mehsana, Panchmahal, Rajkot, Sabarkantha, Surat, Surendranagar, and Vadodara (Baroda).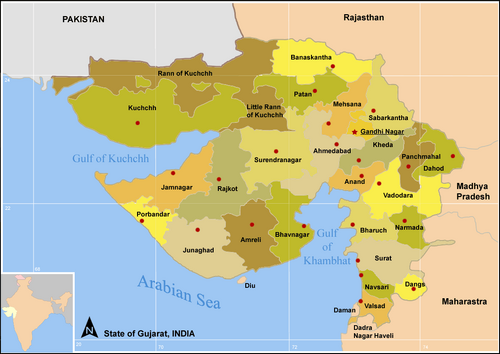 In 1964 Gandhinagar District was formed from parts of Ahmedabad and Mahesana, and in 1966 Valsad District was split from Surat. On October 2 1997 Anand District was split from Kheda, Dahod District was split from Panchmahal, Narmada District was split from Bharuch, Navsari District was split from Valsad, and Porbandar District was split from Junagadh. In 2000 Patan District was formed from parts of Banaskantha and Mahesana. Gujarat now comprises 25 districts.
| District Code | District Name | Headquarter (City) | Population (2001) | Area (km²) | Density (/km²) |
| --- | --- | --- | --- | --- | --- |
| AH | Ahmedabad | Ahmedabad | 5,808,378 | 8,707 | 667 |
| AM | Amreli District | Amreli | 1,393,295 | 6,760 | 206 |
| AN | Anand | Anand | 1,856,712 | 2,942 | 631 |
| BK | Banaskantha | Palanpur | 2,502,843 | 12,703 | 197 |
| BR | Bharuch | Bharuch | 1,370,104 | 6,524 | 210 |
| BV | Bhavnagar | Bhavnagar | 2,469,264 | 11,155 | 221 |
| DA | Dahod | Dahod | 1,635,374 | 3,642 | 449 |
| DG | The Dangs | Ahwa | 186,712 | 1,764 | 106 |
| GA | Gandhinagar | Gandhinagar | 1,334,731 | 649 | 2,057 |
| JA | Jamnagar | Jamnagar | 1,913,685 | 14,125 | 135 |
| JU | Junagadh | Junagadh | 2,448,427 | 8,839 | 277 |
| KA | Kutch | Bhuj | 1,526,321 | 45,652 | 33 |
| KH | Kheda | Kheda | 2,023,354 | 4,215 | 480 |
| MA | Mehsana | Mehsana | 1,837,696 | 4,386 | 419 |
| NR | Narmada | Rajpipla | 514,083 | 2,749 | 187 |
| NV | Navsari | Navsari | 1,229,250 | 2,211 | 556 |
| PA | Patan | Patan | 1,181,941 | 5,738 | 206 |
| PM | Panchmahal | Godhra | 2,024,883 | 5,219 | 388 |
| PO | Porbandar | Porbandar | 536,854 | 2,294 | 234 |
| RA | Rajkot | Rajkot | 3,157,676 | 11,203 | 282 |
| SK | Sabarkantha | Himmatnagar | 2,083,416 | 7,390 | 282 |
| SN | Surendranagar | Surendranagar | 1,515,147 | 10,489 | 144 |
| ST | Surat | Surat | 4,996,391 | 7,657 | 653 |
| VD | Vadodara | Vadodara | 3,639,775 | 7,794 | 467 |
| VL | Valsad | Valsad | 1,410,680 | 3,034 | 465 |
External Links
Edit