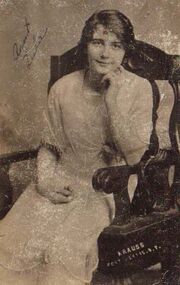 Lulu DeGroat (1902-2002) She Lived to be 99 Years Old (b. December 27, 1902, Summitville, Sullivan County, New York, USA - d. July 31, 2002, New York State Veteran's Home, Oxford, New York, USA)
She married Percy R. Skinner (1897-1950) in 1915.
They had the following children: Robert Skinner (1919-1924) who died as a youth; and Harold Skinner (1920-1945) a lieutenant who was killed in action at Corregidor in the Philippines during World War II.
Her obituary appeared in the Sullivan County Democrat on August 13, 2002 and reads as follows: "Lulu Skinner of Westbrookville, a homemaker, and a longtime area resident, died Wednesday, July 31, 2002, at the New York State Veteran's Home in Oxford. She was 99 years of age. The daughter of the late Alva T. and Mary Rhodes DeGroat, she was born December 27, 1902, in Summitville. She was the widow of Percy R. Skinner. A Gold Star Mother, her son Harold was killed in action during World War II in Corregidor, Philippines. In a family statement, it was said, "She will always be remembered for organizing and preparing church roast beef and turkey dinners." She is survived by Denege Patterson Blood and Donna Patterson Torchia Kellum and their families; and several nieces, nephews and cousins. She was predeceased by another son, Robert, who died at the age of 5; three sisters, Maude, Mabel and Susan; two brothers, Nelson and Kenneth, and her longtime companion, Donald L. Patterson. A committal service will be held Saturday, August 31, 2002, at the Westbrookville Cemetery. Memorial contributions may be made to the Westbrookville United Methodist Church, Westbrookville, N.Y. 12785 or to the NYS Veteran's Home, 4211 NYS Route 220, Oxford, N.Y. 13830."
Memories about Lulu DeGroat
Edit
Cathy Knauff writes on April 14, 2008: "Aunt LuLu actually was born [in] 1901 so she would have been 100 [years old]. Our family records have 1901 on everything but when she went to get Social Security there was nothing official enough so she was given the birth year of 1902. She was actually happy to be a year younger. She said to me the family told her all along that she was a year older and she was not happy with them about that. The photo of Maude (grandma) and LuLu give a clue by how old they look next to each other.
External links
Edit