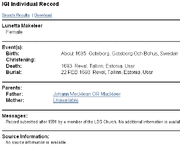 Lunetta Makeléer (1639-1693) (b. 1639; Gothenburg, Sweden - d. before February 22, 1692/1693; Reval, Sweden)
She was born in Gothenburg, Sweden around 1639. There are about 15 congregations in Gothenburg and it is not known which one she was baptized in.
She married Joakim Cronman (1638-1703) on August 9, 1657 at age 18.
She was buried on February 22, 1692/93 in Reval, Sweden.
Relationship
Edit
Lunetta Makeléer (1639-1692) was the ninth great-grandmother of Richard Arthur Norton (1958- ).
Ancestors
Edit
References
Edit
Ad blocker interference detected!
Wikia is a free-to-use site that makes money from advertising. We have a modified experience for viewers using ad blockers

Wikia is not accessible if you've made further modifications. Remove the custom ad blocker rule(s) and the page will load as expected.