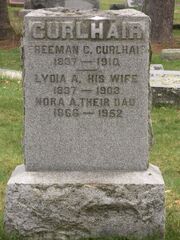 Lydia A. Gaige (1837-1903), aka Lydia A. Gage
She was the daughter of Daniel Gaige (1815-1859) and Mary Hayes (1816-1851).
Her siblings include: Charity Gaige (c1836-?) who married Lewis Spaun; Elizabeth Gaige (c1840-1911) aka Elizabeth Gage who died October 31, 1911, in Albany; Hannah L. Gaige (c1843-1881) aka Hannag Gage, who died August 29, 1881.
Lydia married Freeman C. Curlhair (1834-1910) in 1858 in Duanesburg, New York.
Together they had the following five children: Cora B. Curlhair (1865-?); Nora A. Curlhair (1866-1952); Emma L. Curlhair (1869-?); Lynette Mae Curlhair (1872-1942) aka Linnia Curlhair, who married Benjamin Spencer Van Deusen I (1872-1937); and Orlow C. Curlhair (1878-1907).
Maine, New York
Edit
The family appears in the 1880 US Census living in Maine, Broome County, New York, where Freeman was working as a harness maker. Freeman worked as the Postmaster of Maine in 1898 and has the same job when he appears in the 1900 US Census.