Ad blocker interference detected!
Wikia is a free-to-use site that makes money from advertising. We have a modified experience for viewers using ad blockers

Wikia is not accessible if you've made further modifications. Remove the custom ad blocker rule(s) and the page will load as expected.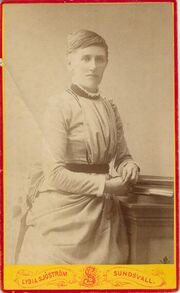 Lydia Carolina Näslund (1871-1920) Ödmark
September 2, 1871 in Ramsele, Västernorrland, Sweden
Teodor H. Ödmark (1865-1928) 18650119 kronofogde (head of an enforcement district) , död 11/12 1928
March 3, 1920 in Sweden.