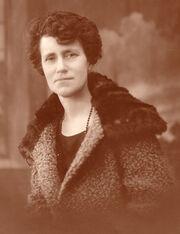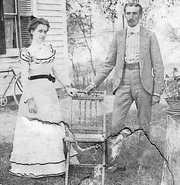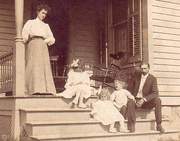 Lynette Mae Curlhair (1872-1942) was an English teacher and later a housewife. (b. March 10, 1872, Binghamton, Broome County, New York, USA - d. April 13, 1942, 6:00 am, Jersey City Medical Center, Jersey City, Hudson County, New Jersey, USA)
Lynette was born in 1872 in Binghamton.
Maine, New York
Edit
The family appears in the 1880 United States Census living in Maine, New York, where Freeman was working as a harness maker.
Around 1897 Nora married Benjamin Spencer Van Deusen I (1872-1937), who worked in real estate, and they eventually moved to Jersey City, New Jersey.
Jersey City, New Jersey
Edit
In 1930 Lynette was living at 601 Garfield Avenue in Jersey City, and in 1934 she and her husband were listed as members of the Browne Memorial Methodist Episcopal Church in Jersey City. In 1937 she was living at 726 Ocean Avenue, Jersey City, New Jersey when her husband died.
Lynette died in 1942 at the home of her son, Burnett, at 98 Woodlawn Avenue in Jersey City and she was buried in Rosedale and Rosehill Cemetery on 355 East Linden Avenue in Linden, New Jersey.
External links
Edit
This article was created by User:Richard Arthur Norton (1958- ).