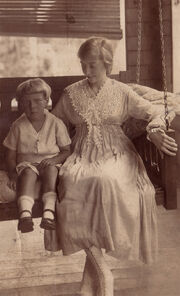 Mabel Olson
was born
1890
in
Chicago
,
Cook County
,
Illinois
,
United States
to
Otto Olson (1858-1921)
and
Hannah E. Hansen (1864-1936)
and died
15 August
1971
in
Rockford
,
Winnebago County
,
Illinois
,
United States
of unspecified causes. She married
Jesse Garrett Clay (1888-1976)
circa 1911 .

Mabel Olson (1890-1971) was a clerk and later a housewife. (b. June 25, 1890, Chicago, Cook County, Illinois, 60619, USA - d. August 15, 1971, Rockford, Winnebago County, Illinois, USA) Social Security Number 329449523.
Birth
Mabel was the daughter of Otto Olson (1858-1921) a barber born in Farsund, Norway; and Hannah E. Hansen (1864-1936).
Siblings
Chicago
Mabel appears in the 1900 United States Census in Chicago living with her parents at 167 Milwaukee Avenue. She appeared in the 1910 Chicago City Directory working as a clerk and living at 465 Milwaukee Avenue.
Marriage
She married Jesse Garrett Clay (1888-1976) around 1911.


Children
Rockford, Illinois
In 1930 Jesse and Mabel were living at 1611 Myott S. Sherman Street in Rockford and Jesse was working as a railroad postal clerk. They owned their own home and it was valued at $6,250.
Death
Mabel died in 1971 and was buried in Willwood Cemetery.
Funeral notice
Her funeral notice from the Chicago Tribune is as follows: "Services for Mrs. Mabel Clay, 81, of 2202 Logan Street, Rockford, will be held at 3 p.m. today in the chapel at 304 North 5th Avenue, Rockford. Mrs. Clay died Friday in a Rockford nursing home. Mrs. Clay, who was born in Chicago, spent most of her life in Rockford. She leaves her husband, Jesse; three grandsons; seven great-grandchildren; and a brother."
Footnotes (including sources)
Ad blocker interference detected!
Wikia is a free-to-use site that makes money from advertising. We have a modified experience for viewers using ad blockers

Wikia is not accessible if you've made further modifications. Remove the custom ad blocker rule(s) and the page will load as expected.