Ad blocker interference detected!
Wikia is a free-to-use site that makes money from advertising. We have a modified experience for viewers using ad blockers

Wikia is not accessible if you've made further modifications. Remove the custom ad blocker rule(s) and the page will load as expected.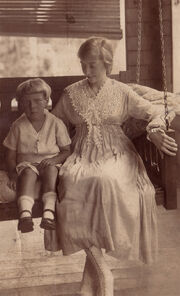 Mabel Olson (1890-1971) was a clerk and later a housewife. (b. June 25, 1890, Chicago, Cook County, Illinois, 60619, USA - d. August 15, 1971, Rockford, Winnebago County, Illinois, USA) Social Security Number 329449523.
Mabel was the daughter of Otto Olson (1858-1921) a barber born in Farsund, Norway; and Hannah E. Hansen (1864-1936).
Mabel appears in the 1900 United States Census in Chicago living with her parents at 167 Milwaukee Avenue. She appeared in the 1910 Chicago City Directory working as a clerk and living at 465 Milwaukee Avenue.
She married Jesse Garrett Clay (1888-1976) around 1911.
Rockford, Illinois
Edit
In 1930 Jesse and Mabel were living at 1611 Myott S. Sherman Street in Rockford and Jesse was working as a railroad postal clerk. They owned their own home and it was valued at $6,250.
Mabel died in 1971 and was buried in Willwood Cemetery.
Funeral notice
Edit
Her funeral notice from the Chicago Tribune is as follows: "Services for Mrs. Mabel Clay, 81, of 2202 Logan Street, Rockford, will be held at 3 p.m. today in the chapel at 304 North 5th Avenue, Rockford. Mrs. Clay died Friday in a Rockford nursing home. Mrs. Clay, who was born in Chicago, spent most of her life in Rockford. She leaves her husband, Jesse; three grandsons; seven great-grandchildren; and a brother."
External link
Edit