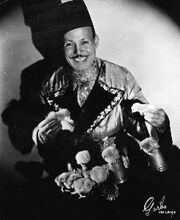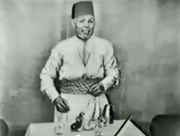 Mahgoub Mohammed Hanafi (1902-1984) known by his stage name of Luxor Gali-Gali, was an Egyptian magician who migrated to the United States and died in Las Vegas, Nevada. (b. October 23, 1902; Port Said, Egypt - d. October 1, 1984; Las Vegas, Nevada)
Biography
Edit
He was born in Port Said, Egypt on October 23, 1902. He was married to Gabrielle X (1910-2001)
He migrated to New York City around 1933-1935 and became an American citizen on November 8, 1944.
His magic act consisted of cups and balls with baby chicks instead of balls.[1][2] [3]
He appeared on the The Ed Sullivan Show and Cavalcade of Stars in 1949.
He died on October 1, 1984 in Las Vegas, Nevada at age 82.[4]
Children
Edit
Tina Macq Boag Grand Children Paul Boag and Kim Boag
External links
Edit
References
Edit