Ad blocker interference detected!
Wikia is a free-to-use site that makes money from advertising. We have a modified experience for viewers using ad blockers

Wikia is not accessible if you've made further modifications. Remove the custom ad blocker rule(s) and the page will load as expected.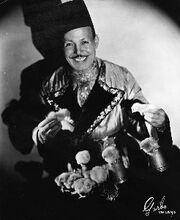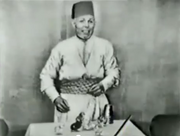 Mahgoub Mohammed Hanafi (1902-1984) known by his stage name of Luxor Gali-Gali, was an Egyptian magician who migrated to the United States and died in Las Vegas, Nevada. (b. October 23, 1902; Port Said, Egypt - d. October 1, 1984; Las Vegas, Nevada)
Biography
Edit
He was born in Port Said, Egypt on October 23, 1902. He was married to Gabrielle X (1910-2001)
He migrated to New York City around 1933-1935 and became an American citizen on November 8, 1944.
His magic act consisted of cups and balls with baby chicks instead of balls.[1][2] [3]
He appeared on the The Ed Sullivan Show and Cavalcade of Stars in 1949.
He died on October 1, 1984 in Las Vegas, Nevada at age 82.[4]
Children
Edit
Tina Macq Boag Grand Children Paul Boag and Kim Boag
External links
Edit
References
Edit