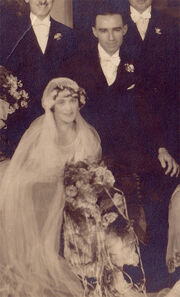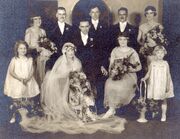 Mahlon Edward Shanahan (1900-1993) Vice President of Continental Bank in Chicago (b. December 03, 1900, Chicago, Cook County, Illinois, USA - d. August 08, 1993, Westlake Memorial Hospital, Melrose Park, Cook County, Illinois, 60305, USA)
He was the husband of Eleanor Margaret Jensen (1897-1987).
His obituary was published on August 10, 1993 in the Chicago Tribune: "Mahlon E. Shanahan, 92, a retired vice president of Continental Bank in Chicago, died Sunday at Westlake Memorial Hospital in Melrose Park. Mr. Shanahan was second vice president in Continental's commercial banking department and worked for the bank for 32 years. A resident of River Forest for 25 years, Mr. Shanahan retired from the bank in 1965. Survivors include a son, Jack; a daughter, Sandra Tessem; three grandchildren; and a great-granddaughter. Visitation will be from 3 to 9 p.m. Wednesday at Drechsler-Brown Funeral Home, 203 South Marion St., Oak Park. Mass will be said at 10 a.m. Thursday in St. Luke's Catholic Church, Lake Street and Lathrop Avenue, River Forest."
External links
Edit