Maiden Springs Fort was one of eight forts established in Southwest Virginia during Dunmore's War of 1774. The fort is said to have been located on the property of Rees Bowen on the south bank of Maiden Springs Fort of the Clinch River.
A roster of the Maiden Springs Fort survives, preserved in the Draper Manuscript Collection. The following is based on information provided in Thwaites and Kellogg, 1905:403
At the Maiden Springs Station 26th. Aug. 1774

Mr. Robt. Brown Sergeant till 23rd. Sept. then Joseph Cravens.

Joseph Cravens

James M Clehany [A] discharged 19th. Oct. 55 days.

James Cravens

John Jameson listed 29th. Aug. disch. 19th. Oct. 53 days.

James Rogers

Thomas Brumly listed 22nd. Augt. disch. 19th. Oct. 60 days.

Andw. Lammy listed 16th. Aug. 4th. Sept. Saml. Fowler [B]
came in his room.

John Flintham listed 14 Aug. disch. 19th. Oct. 68 days.

James Douglas M. S.

John Newland, W. listed Sept. I4th, discharged 22nd, eight days

Samuel Paxton W. listed Sept. I4th, discharged 22nd, eight days

Philip Dutton, W. listed Sept. I4th, discharged 22nd, eight days

John Cravens. 23d Sept. M. S.

Rees Bowen Aug. 26—Sept 2

David Ward Aug.20—Sept 2

Robt Cravens Nov. 1st—Nov. 18th

Notations used in the list, as noted by T&K:

"W." indicates Whittens Big Crab Orchard Fort

M.S. indicates Maiden Springs
Comments (Bill 18:00, 18 October 2007 (UTC)): [A] This is probably "M'Clehany" [B] A Samuel Lemmey was captured by Indians on the 8th of September. As reported by Campbell to Preston, 17 September 1774 this occurred on the same day as John Henry was wounded. That event is described in Campbell to Preston, 9 September 1774 as having occurred the previous day (ie, 8 September 1774). Lemmy apparently died in captivity, as later court records indicate that he never returned to the area. (Hamilton, undated, "Samuel Lammey Captured on Holston River" Hamilton goes on to note that Andrew Lemmey (presumably the Andrew Lemmey given in the above list) was heir-at-law to Samuel, and presumably his borther. Samuel and Andrew are described as having settled on Cove Creek in 1770. This may be Locust Cove Creek, a few miles east of Saltville.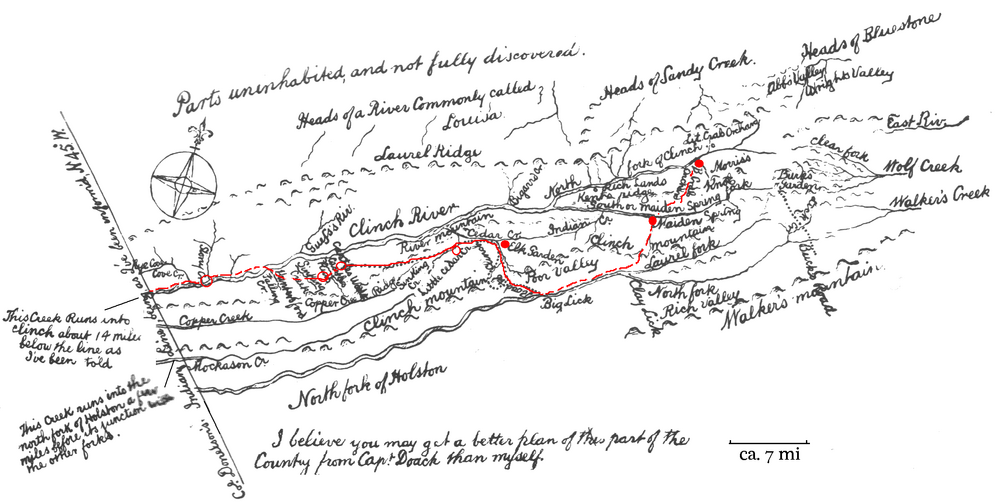 Caption: Daniel Smith Map of 1774, with modifications. Closed red circles indicate the location of Forts as shown in Smith's original map. Open red circiles indicate locations of forts not shown on Smith's map. From left to right the forts were known as Blackmore's, Moore's, Russell's, Glade Hollow, Elk Gardens, Maiden Springs, and Whitten's Big Crab Orchard.
The dashed red line shows the route of what came to be known as the "Kentucky Trace". The solid red line, extending from "Big Lick" to "Castles Woods", is the portion of the future Kentucky Trace and which Smith designated "Road to Clinch".
This map appears in the Draper Manuscript Collection as item 4NN62. It was reproduced in Lewis, 1905:30-31, whose versin has been scanned and reproduced here. Labeling on Smith's original map was oriented such that the map had to be turned up-side down to read some of the labels. Some of the principle labels of interest have been rotated so that they are legible with the map held in a north-south orientation.
Ad blocker interference detected!
Wikia is a free-to-use site that makes money from advertising. We have a modified experience for viewers using ad blockers

Wikia is not accessible if you've made further modifications. Remove the custom ad blocker rule(s) and the page will load as expected.