Description
Edit
Maiden Springs was one of seven Forts established in Southwest Virginia during Dunmore's War of 1774. It was located on the property of Rees Bowen (?-?) about 12 miles southwest of Tazewell, Tazewell County, Virginia. Smith's Map of 1774 shows it on the southside of Maiden Spring Creek, also known in some accounts as the South Fork of the Clinch. Modern State Route 91 passes through this area, following the route of the "Kentucky Trace", or "Kentucky Road". The Kentucky Trace originated further north near Roanoke where it split off from The Great Philadelphia Wagon Road and passed south through Castle's Woods. It was the major route by which settlers from the Valley of Virginia passed southward into Southwest Virginia. It took the name "Kentucky Road", or "Boone's Road" after Boone completed the Wilderness Road to the Cumberland Gap, and Kentucky beyond. Prior to that it was known locally as "the Road to the Clinch".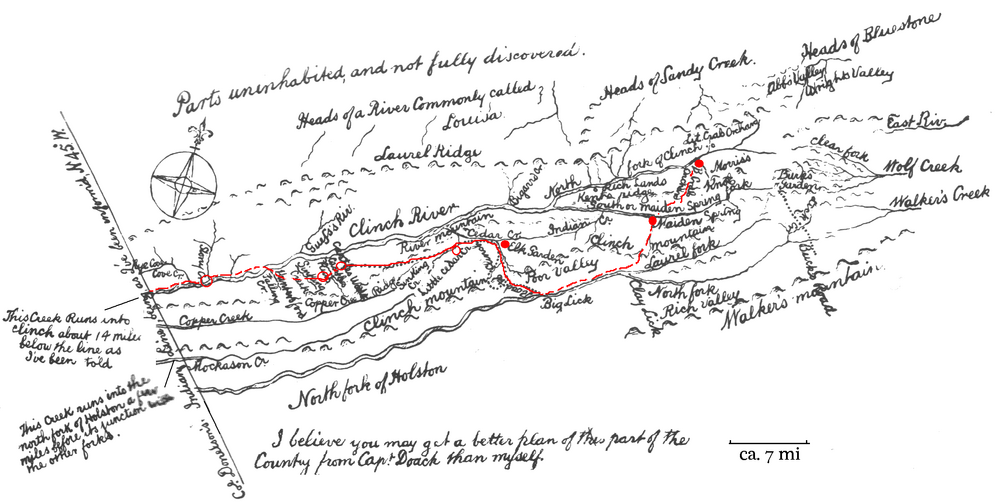 Caption: Daniel Smith Map of 1774, with modifications. Closed red circles indicate the location of Forts as shown in Smith's original map. Open red circiles indicate locations of forts not shown on Smith's map. From left to right the forts were known as Blackmore's, Moore's, Russell's, Glade Hollow, Elk Gardens, Maiden Springs, and Whitten's Big Crab Orchard.
The dashed red line shows the route of what came to be known as the "Kentucky Trace". The solid red line, extending from "Big Lick" to "Castles Woods", is the portion of the future Kentucky Trace and which Smith designated "Road to Clinch".
This map appears in the Draper Manuscript Collection as item 4NN62. It was reproduced in Lewis, 1905:30-31, whose versin has been scanned and reproduced here. Labeling on Smith's original map was oriented such that the map had to be turned up-side down to read some of the labels. Some of the principle labels of interest have been rotated so that they are legible with the map held in a north-south orientation.
Maiden Springs Fort was manned by men of Captain Daniel Smith's company during the summer and fall of 1774.
The following roster of soldiers stationed at Maiden Springs is based on Thwaite and Kellogg, 1905:401, citing Draper 5XX2 and 6XX106.  The list is ostensibly a roster of Captain Daniel Smith's Company taken 13 August 1774.  Some entries include notes indicating listings, and discharges after that date, and as late as 18 November 1774.  This list is sometimes used to show that these men fought at the Battle of Point Pleasant;  while there is no doubt that they served in Dunmore's War, there seems to be no direct indication in Thwaite and Kellog, 1905, that they participated directly in the battle of Point Pleasant on 10 October.  On the ninth of October, the day before the battle, Col Wm. Preston wrote to Daniel Smith, saying:

I make no doubt of your doing all in your power for the ease and defence of the people, in which laudable business may heaven succeed your endeavors. Thwaite and Kellog, 1905:343, citing Draper Manuscript Collection 4XX44.
This seems to make it clear that Smith had been detailed the responsibility of protecting the settlements on the Clinch while others from the area went to Point Pleasant. Presumably the men under Smith also remained behind. On the whole, the evidence seems to indicate that for the most part the men of Fincastle County who went to point Pleasant were from the lower Clinch River area, around Castle's Woods, and served under Captain Russell, and did not include those in Captain Daniel Smith's Company at Glade Hollow or elswhere.
Ad blocker interference detected!
Wikia is a free-to-use site that makes money from advertising. We have a modified experience for viewers using ad blockers

Wikia is not accessible if you've made further modifications. Remove the custom ad blocker rule(s) and the page will load as expected.