Maratje or Mary Bennet
was born
25 September
1774
to
Nicholas Bennet (1743-1796)
and
Mary Duryea (1752-1834)
and died
23 July
1830
of unspecified causes. She married
Rem Cashow (1768-1816)
circa 1798 in
Oyster Bay
,
Nassau County
,
New York
,
United States
.
Siblings
Children
Tombstone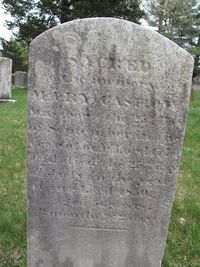 "Sacred to the memory of Mary Cashow was born the 25th day of September in the year of our Lord 1774 and died the 23rd day of July in the year of our Lord 1830 aged 56 yrs 2 months & 2 days."
External link
Footnotes (including sources)
Contributors
Ad blocker interference detected!
Wikia is a free-to-use site that makes money from advertising. We have a modified experience for viewers using ad blockers

Wikia is not accessible if you've made further modifications. Remove the custom ad blocker rule(s) and the page will load as expected.