Note: À tous les membres de la famille qui liront ces pages, et aux autres intéressés, à vous de faire les correctifs qui vous semblent appropriés. Ces écrits ne sont basés qu'au meilleur de notre connaissance.

NAISSANCE (Né à Mont-Joli, Québec, le 19 Juin 1929)
METIERS:
- Marin dans la Marine de guerre Canadienne.
- Technicien en gas propane.
Il a débuté sa vie professionelle en travaillant dans le domaine de la réparation et maintenance de systèmes au gas propane. Ce métier l'a amené à voyager dans le grand nord québécois, encore vierge en ce temps, et de se découvrir des habilités qui vont lui servir toute sa vie durant. Durant cette période il a voyagé dans des endroits aussi "exotiques" que Fort Chimo "Kuujjuaq", Frobisher Bay "Iqaluit", Border Beacon , Knob Lake (Schefferville), ainsi que plusieurs endroits du grand nord québecois.
SCHEFFERVILLE
(
Schefferville
)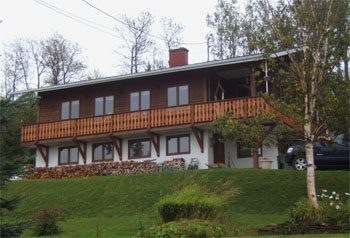 - Propriétaire d'une station Service
Il acquiert, à Schefferville une station service B/A (British American) qui plus tard est devenu Gulf.
- Propriétaire d'un commerce de pièces d'auto.
- Commis aux pièces à la compagnie Iron Ore of Canada (IOC).
Note: Durant tout son séjour à Schefferville, il a opéré, en parallèle, un commerce de réparation d'appareils ménagers. Ce travail, à temps partiel, lui a permis d'acquérir l'expérience nécessaire pour développer son commerce lorsqu'il fut de retour dans la région Mont-Joli - Rimouski.
STE-LUCE SUR MER
- Propriétaire d'un commerce de réparation d'appareils ménagers
En 1978 il a quitté Schefferville avec sa famille pour demeurer, temporairement, à Mont-Joli, le temps de démarrer son commerce Réparation Inter-Cité. L'année suivante, il a construit sa maison à Ste-Luce sur Mer pour y habiter jusqu'à la fin de sa vie.
- Propriétaire du Camping Le Bocage
PASSE-TEMPS
Ces passe-temps préférés étaient l'écoute de la musique, plus particulièrement classique mais en incluant aussi James Last, la peinture, le piano, le violon, et les travaux de contruction et de rénovations. Il faut dire que Marc était très doué pour tous les travaux manuels. Voici quelques examples de ses oeuvres:
---

ANECDOTES:
D'une imagination débordante, il ne s'est jamais retrouvé à court d'idées.
Ad blocker interference detected!
Wikia is a free-to-use site that makes money from advertising. We have a modified experience for viewers using ad blockers

Wikia is not accessible if you've made further modifications. Remove the custom ad blocker rule(s) and the page will load as expected.