Margaret James was baptised on 25th April 1762 in St Hillary, Cornwall, England. Her parents were Joel and Mary James (nee Carne). The surname 'Came' for Margeret's mother is a mistranscription of the surname 'Carne'.
Margaret's siblings were Joel, Elizabeth and Ann (another sister named Elizabeth died young).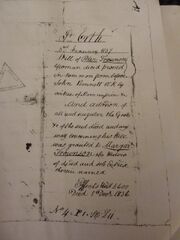 Margaret married at aged 25 to Peter Trounson, son of Peter and Joan Trounson (nee Karn) from Ludgvan. The couple married in St Erth on 9th August 1787, and witnesses to the marriage were a Edward Rawlings and Joel James (possibly Margaret's father or brother). Peter was a sojourner to St Erth at the time of the marriage and was employed as a labourer.
The couple settled and had 9 known children. Although St Erth is recorded as the location for all the baptisms of the children, they may not have all been born there. Daughter Ann is known to have been born in St Hillary and baptised in St Erth.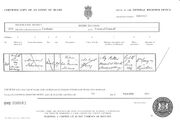 Husband Peter died in December of 1836 at aged 75. His residence at the time was St Erth, and he was buried in St Hillary on 05/12/1836. Eldest son Peter had died only 6 months before.
Peter left a will in which Margaret benefitted by obtaining a small annity of 5 pounds a year and a quarter of the property that her yeoman husband farmed. The property was called 'Jerico' and the remaining three quarters of the property were left to their son James.
Margaret outlived her husband by three years. She died on 4th June, 1839 at Nancemellin in Camborne, and was buried at St Hillary on 10/6/1839, aged 77. Her cause of death was natural decay and a 'Mary Peters' was present at her death. On her death certificate, her husband's last occupation was recorded as farmer.
Name
Birth
Death
Children of Peter & Margaret Trounson




Peter
baptised 02/11/1788
baptised St Erth, Cornwall
buried 23/06/1836 St Hillary
Relubbus, Cornwall




Ann
baptised 13/2/1791 St Erth
St Hillary, Cornwall
buried 16/12/1880 Tuckingmill
Tuckingmill, Cornwall




Joel James
baptised 29/12/1793
baptised St Erth, Cornwall
Dec Q 1850
Penzance District, Cornwall




James
baptised 30/10/1796
baptised St Erth, Cornwall
before 1871





Margaret
baptised 11/11/1798
baptised St Erth, Cornwall






Thomas
baptised 29/6/1800
baptised St Erth, Cornwall
buried 13/1/1822 St Hillary
Rosudgeon, Cornwall




Mary
baptised 25/7/1802
baptised St Erth, Cornwall






Elizabeth
baptised 01/09/1805
baptised St Erth, Cornwall






Jennifer
baptised 20/08/1809
baptised St Erth, Cornwall
1821

References
Edit
Ad blocker interference detected!
Wikia is a free-to-use site that makes money from advertising. We have a modified experience for viewers using ad blockers

Wikia is not accessible if you've made further modifications. Remove the custom ad blocker rule(s) and the page will load as expected.