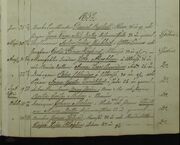 Margareta Kristina Höglund I (1819-1854) aka Greta Stina Höglund (b. January 11, 1819, Norrutansjö, Högsjö, Västernorrlands, Sweden - d. after June 11, 1854, Västernorrlands, Sweden)
Margareta was the daughter of Johannes Johansson Höglund (1782-1863) and Anna Katarina Danielsdotter (1785-1838). Johannes was the son of Johan Eriksson (1741-1815) and Brita Persdotter (1748-1813). Anna was the daughter of Daniel Eriksson (1747-1812) and Anna Johansdotter (1763-1807).
She was born on January 11, 1819 in Norrutansjö, Högsjö, Västernorrlands, Sweden.
Johannes Höglund (1815) who died as an infant
Anna Brita Höglund (1816-1892) who married Mårten Ramstedt (1808-1870) in 1839
Kajsa Lisa Höglund I (1821) who died as an infant
Johannes Höglund (1822-?) who married Lena Kajsa Böhlin (1830-?) in 1851
Kajsa Lisa Höglund II (1825-?) who married Erik Olof Wänglund in 1856
Margareta married Anton Julius Winblad I (1828-1901) on June 24, 1852 at Högsjö parish, Västernorrland, Sweden and had the following children:
Margareta died after giving birth to Antonette II and she was buried in Sweden. The exact date is not known.
External link
Edit
Ad blocker interference detected!
Wikia is a free-to-use site that makes money from advertising. We have a modified experience for viewers using ad blockers

Wikia is not accessible if you've made further modifications. Remove the custom ad blocker rule(s) and the page will load as expected.