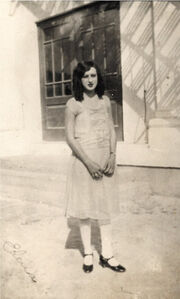 Maria Elena Milagro de Hoyos (1910-1931) died of tuberculosis and her body was preserved by Carl Tanzler (1877-1952) who was one of her physicians. (b. 1910 - d. October 25, 1931; Key West, Florida, USA)
On February 18, 1926, Hoyos married Luis Mesa (1908-?), the son of Caridad and Isaac Mesa. Luis left Hoyos shortly after Hoyos miscarried the couples' child, and moved to Miami. Hoyos was legally married to Mesa at the time of her death.
She died of tuberculosis in 1931.