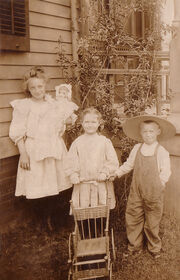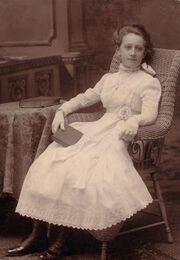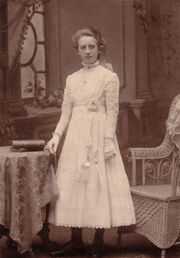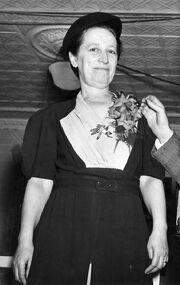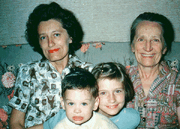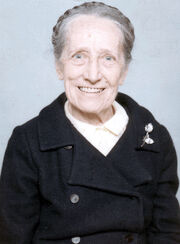 Maria Elizabeth Winblad (1895-1987) aka Mae Winblad. She was abandoned by her husband in 1928 and she raised her three children by working as a cleaning lady and by doing laundry for neighbors during the Great Depression. (b. February 16, 1895; 294 West Houston Street, Greenwich Village, Manhattan, New York County, New York City, New York, USA - d. March 07, 1987; Jersey City, Hudson County, New Jersey, USA) Social Security Number 147188206.
Ethnicity
She was 50% Norwegian and 50% Swedish.
Ancestry
She is a descendant of Lars Magnus Wingblad of Vingaker, Sodermanland, Sweden. Some of her Swedish lines go back to Scotland. She is a descendant of Hans Hansen I of Log (1729-1767). He is the earliest family member in Norway for which a birth and death date are known.
Name
The name Winblad likely derives from the location of Vingaker, Sodermanland, Sweden where the earliest members of the family were born. Winblad also translates as "grapeleaf". She was named after Maria Elisabeth Winblad I (1865-1937).
Parents
Birth
Maria was born in Greenwich Village in Manhattan on February 16, 1895 and her birth certificate was number "9529". The New York City Birth Index incorrectly lists her as "Mary E. Weinblad".
Siblings
Maria's siblings are:
New Jersey
The family moved out of Manhattan to live in the quiet of New Jersey around 1900. They had a new house built on Wayne Street in Jersey City. Otto Perry Winblad was born in 1902 in Jersey City.
Isle of Pines, Cuba
In 1910 the family decided that they would move to the Isle of Pines in Cuba. John Winblad had wanted to be a plantation owner, and many other American families moved to the Isle of Pines during this time. Maria spent a year and a half in Cuba, where she rode a horse named "Happy". She said when she arrived in Cuba there was no one there to greet her, and she had to get help to find out how to get to the Isle of Pines from Havana.
Marriage
She returned from Cuba to Jersey City on March 26, 1912 with her brother Otto. While in Jersey City she met Arthur Oscar Freudenberg I (1891-1968), who was a Sunday School teacher at Waverly Congregation Church. Maria was a very devout Lutheran at Trinity Scandinavian Church in Jersey City. Maria and Arthur married on February 28, 1914 at the Trinity Lutheran Church at 195 Claremont Avenue in Jersey City. On Monday, March 02, 1914 the Hudson Observer reported: "Worst Storm Since 1888 Still Sweeping Over This Section. Railroads are nearly paralyzed and are running only a few local trains - - Nearly all of the trolley lines suspended and wires covered with snow and ice are down in all the Hudson cities -- Only a little milk and and coal delivered -- most of the streets impassable."
Children
Together Maria and Arthur had the following children:
Death of parents
Maria's father and mother attended her wedding, and then they went to Norway to visit family. Both parents died within a few months of each other in 1914. Otto Winblad was with them in Norway and returned to live with Maria and Arthur in Jersey City on July 06, 1915. On the same day that Otto arrived from Norway, Maria's brother, Anton and his wife Eva returned from Cuba with their two children: Anthony Leroy Winblad and Norman Edward Winblad. They brought with them Eva's two youngest brothers: Theodore Roosevelt Lattin; and Dewey Ernest Lattin. Eva's father and mother stayed in Cuba until 1924 and then settled in Lake Helen in Florida.
Maria raised Helen
Maria raised the child of Arthur and one of his mistresses:
Abandoned by husband
Around 1928 Arthur abandoned Maria, although he appears as the head of household in the 1930 United States Census. The oral family tradition has been that Arthur ran off with a burlesque stripper. At the height of the depression, Maria lived on Claremont Avenue in Jersey City and raised her three children earning money by being the superintendent of a four-unit rental property owned by someone else. She took in laundry, scrubbed floors, and prepared meals for other families. She did all that she could to keep the family housed and fed. Arthur never provided any money and lived with his mistress. Maria wore her wedding ring for the rest of her life.
Middle years
When Maria's children got married she split her time between them, living at their houses. She lived in Paramus, New Jersey for a number of years and also spent time with Pete and Naida at their home in Fairfield, New Jersey.
Broken hip
In the late 1970s she broke her hip in Paramus and was confined to the Lutheran nursing home in Jersey City.
Death and burial
She died in 1987 of a heart attack at age 92 and was buried in the Bayview – New York Bay Cemetery, Jersey City, New Jersey. She is buried with:
Archive
Many of her letters are extant and archived.
Eulogy
Her eulogy reads as follows:
Mae Freudenberg was born Saturday, February 16, 1895 in New York City. Her parents were members of the Scandinavian Evangelical Lutheran Trinity Church in downtown Jersey City. Mae was a member of Trinity for most of her life, and her children were all baptized there also many of her grandchildren. She taught Sunday School and was a member of Glad Tjeneste. On the 95th anniversary of Trinity, Mae received a certificate of recognition for her years of faithful service to the church. For about fifteen years, Mae was a volunteer of services to the Lutheran Home on Nelson Avenue in Jersey City.
Memories about Maria Elisabeth Winblad
Research on Maria Elisabeth Winblad
See also
External links
Ancestors
This article was created by User:Richard Arthur Norton (1958- ).
Ad blocker interference detected!
Wikia is a free-to-use site that makes money from advertising. We have a modified experience for viewers using ad blockers

Wikia is not accessible if you've made further modifications. Remove the custom ad blocker rule(s) and the page will load as expected.