Maria Filotti
was born
9 October
1883
in
Batogu
,
Brăila County
,
Romania
to
Constantin Filotti (1849-1911)
and
Sofia Unknown
and died
5 November
1956
in
Bucharest
,
Romania
of unspecified causes. Ancestors are from
Wallachia
,
Romania
.

Maria Filotti (b. October 9, 1883 in Batogu, Brăila County, Romania; d. November 5, 1956 in Bucharest, Romania) was a Romanian actress [1].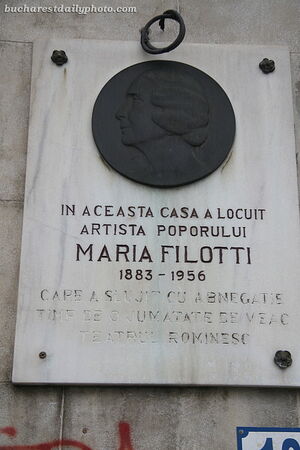 Major roles
Gioconda (Gabriele D'Annunzio : La Gioconda) (1904 -1905)
Silvia in "Suprema forţă" de Haralamb Lecca (1904 - 1905)
Nenela in "Come le foglie" de Giuseppe Giacosa (1905 - 1906)
Enriqueta in "El loco Dios" de José Echegaray (1905 -1906)
Catherine de Septmonts in "L'étrangère" by Alexandre Dumas fils (1906 - 1907, Iaşi)
Berta in "Victims of the Law" by Landray (1906 - 1907, Iaşi)
Clara Tardini in "Jucătorii de cărţi" by Haralamb Lecca (1906-1907, Iaşi)
Henriette in "Cele două orfeline" de Adolphe d'Ennery and Eugène Cormon (1906-1907, Iaşi)
Germaine Lechat in "w:Business is business (Les affaires sont les affaires)" by Octave Mirbeau (1906-1907, Iaşi)
Nelly Rozier in "Nelly Rozier" by Maurice Hennequin and Paul Bilhaud (1906-1907, Iaşi)
Thomry in "La Martyre" by Jean Richepin (1906-1907, Iaşi)
Elena de Bréchebel in "La rafale (Whirlwind)" by w:Henri Bernstein (1906-1907, Iaşi))
Elissa in "Rahab" by Rudolf von Gottschall (1906-1907, Iaşi))
Lady Milford in "Kabale und Liebe (Intrigue and Love)" by Friedrich Schiller (1906-1907)
Maria in "Magda (Heimat)" by Hermann Sudermann (1906-1907)
Toinetta in "Eva" by Richard Voss (1906-1907)
Neera in "Fântâna Blanduziei" by Vasile Alecsandri (1907 - 1908, Bucharest)
Vidra in "Răzvan şi Vidra" by Bogdan Petriceicu Hasdeu (1907-1908)
Eglea in "Dragoste cu toane" by Goethe (1907-1908)
Corina in "Ovidiu" by Vasile Alecsandri (1907 - 1908)
Zoe in "O scrisoare pierdută" by Ion Luca Caragiale (1922 - 1923)
Countess Almaviva in "Nunta lui Figaro" de Beaumarchais (1922 - 1923)
Hedda Gabler in "Hedda Gabler" by Henrik Ibsen
Queen Elisabeth in "Maria Stuart (Mary Stuart)" by Friedrich Schiller (1923 - 1924)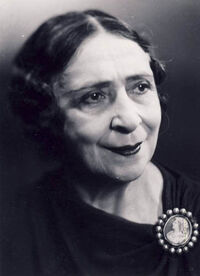 Filmography
Înşir-te mărgărite (1912)
Independenţa României (1912)
Pe valurile fericirii (1920)
Visul unui nopţi de iarnă (1946)
Citadela sfărâmată (1956)
Works
Maria Filotti - Am ales teatrul - Editura pentru literatură, 1961
Children
See also
References
Footnotes (including sources)
Contributors
This page uses content from the Romanian language Wikipedia. As with this Familypedia wiki, the content of Wikipedia is available under the Creative Commons License.
Ad blocker interference detected!
Wikia is a free-to-use site that makes money from advertising. We have a modified experience for viewers using ad blockers

Wikia is not accessible if you've made further modifications. Remove the custom ad blocker rule(s) and the page will load as expected.