Mary Rogers
was born
4 December
1845
in
Coborne
,
Northumberland County
,
Ontario
,
Canada
(Coborne, Northumberland, Ontario) to
David Rogers (1805-aft1879)
and
Eliza Hinman (1810-1890)
and died
15 February
1939
of unspecified causes. She married
Christopher Darius Gorman (1846-1932)
6 May 1866 . Ancestors are from the
United States
,
Ireland
.
Siblings
Children
OVERVIEW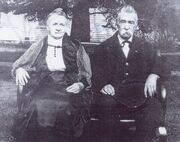 Genealogical keynotes
Vita
Born: December 4, 1845
Birth Place: Coborne, Northumberland, Ontario, Canada
Married: May 6, 1866
Died: February 15, 1939
Burial: Brookville Cemetery, Eau Galle, St Croix County, Wisconsin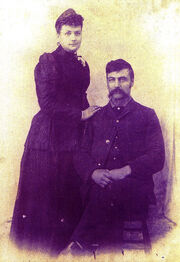 Ancestry
Mary is the daughter of David Rogers (1805-1880+) and Eliza Hinman (1810-1890)
Spouse(s)
Family history
Alternative interpretation
Records
Footnotes (including sources)
| | |
| --- | --- |
| Ω Birth | Placename needs checking - could it be "Colborne"? |
Contributors
References
Research needs
Page needs
Contributors
William Gorman (Great Great Grandson)
Ad blocker interference detected!
Wikia is a free-to-use site that makes money from advertising. We have a modified experience for viewers using ad blockers

Wikia is not accessible if you've made further modifications. Remove the custom ad blocker rule(s) and the page will load as expected.