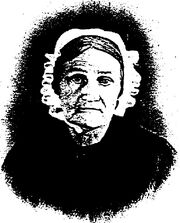 Genealogical Keynotes
Edit
Born: March 22, 1754
Married: February 24. 1774
Died: 1835/1836
Burial:
x is the son/daughter of Alexander Walker (1716-1784) and Jane Hammer (1726-1798).
Spouse(s)
Edit
Child List
Edit
Family History
Edit
Mary Ann Walker married her second cousin James Walker.
Alternative Interpretation
Edit
References
Edit
1. White, Emma Siggins, 1902. Descendants of John Walker of Wigton Scotland and Some Allied Families.
Research Needs
Edit
Page Needs
Edit
Contributors
Edit