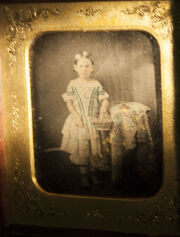 Mary Ann Windle
was born
26 October
1841
in
Chippendale
,
New South Wales
,
Australia
to
Alfred Windle (1803-1876)
and
Caroline Mary Ann Rooke (1817-1884)
and died
31 March
1924
in
Epping
,
New South Wales
,
Australia
of unspecified causes. Ancestors are from the
United Kingdom
.
Footnotes (including sources)
‡ General

The photo in the Mitchel Library was donated by Ruth Robertson in 1970 and was accompanied by this note written by E. Dennis on 12 Dec 1958:

The girls in these pictures are my cousin (sic) Ada and Mary Windle taken + framed by my great grandfather Rooke. Must be over 100 years old – the pictures belonged to grandmother Caroline Windle.

Mike Kelly on visit to Mitchell Library 2014.
| | |
| --- | --- |
| Ω Birth | BDM Index ref for birth: V1841796 25A/1841 |
| | |
| --- | --- |
| ₪ Wedding | BDM Index ref for marriage: 1255/1872 |
| | |
| --- | --- |
| ¶ Death | BDM Index ref for death: 8441/1924 |