Ad blocker interference detected!
Wikia is a free-to-use site that makes money from advertising. We have a modified experience for viewers using ad blockers

Wikia is not accessible if you've made further modifications. Remove the custom ad blocker rule(s) and the page will load as expected.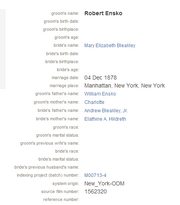 Mary Elizabeth Bleakley (1858-1939) Housewife (b. 1858, Manhattan, New York City, New York, USA - d. March 10, 1939, Manhattan, New York City, New York, USA)
Charles Andrew Bleakley I
Charles Andrew Bleakley II
Martha Moran Bleakley (1866-afrter 1930) Married, first DeLaMonte Northrup. Four children, two of whom survived to adulthood. After her husband's death in 1906, she then married Alfred Lewis. They had two children, Martha and James.
Charles Leffer-Gardy Bleakley (1868-?) who was born on November 16, 1868 in New York and died 29 DEC 1955. He married Blanche Marion Taylor. They had 11 children.
Fannie Louise Bleakley (1874-?)
She married Robert F. Ensko I (1855-1934) a silver expert on December 04, 1878 in Manhattan.
She died March 10, 1939.
Green-Wood Cemetery, Brooklyn, Kings County, New York, USA
External links
Edit