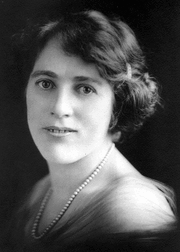 Mary Jensen (1884-1969) aka Marie Jensen (b. September 04, 1884; Chicago, Cook County, Illinois, USA - d. December 10, 1969; Chicago, Cook County, Illinois, USA)
First marriage
Edit
Mary married Albert Rath (1881-1950).
Second marriage
Edit
Later Mary Jensen married Nels Hemwall (1875-1965). Nels was previously married to Ida.
Funeral notice
Edit
Mary's obituary appeared in the Chicago Tribune on Thursday, December 11, 1969 and reads as follows:
Marie [Rath] Hemwall, nee Jensen, beloved wife of the late Nels; dear mother of Alice [Edwin] Anderson, Edward [Marion] Rath, Florence [Walter] Williamson, and Harold [Alice]; grandmother of 10. Services Friday, December 12, 1:30 p.m. at Kolssak Funeral Home. Interment Mount Emblem.
External links
Edit
Ancestors
Edit
Ad blocker interference detected!
Wikia is a free-to-use site that makes money from advertising. We have a modified experience for viewers using ad blockers

Wikia is not accessible if you've made further modifications. Remove the custom ad blocker rule(s) and the page will load as expected.