Articles, images
People
Daily life
Research,
including queries
Matanuska-Susitna Borough (often referred to as the Mat-Su Borough) is a borough located in the U.S. state of Alaska. As of the 2010 census, the population was 88,995.[3] The borough seat is Palmer,[4] and the largest city is Wasilla.
Matanuska-Susitna Borough is part of the Anchorage, AK Metropolitan Statistical Area.
The Mat-Su Borough is so designated because it contains the entire Matanuska and Susitna Rivers. These rivers empty into Cook Inlet which is the southern border of the Mat-Su Borough. This area is one of the few agricultural areas of Alaska.
Geography
Edit
According to the U.S. Census Bureau, the borough has a total area of 25,258 square miles (65,420 km2), of which 24,608 square miles (63,730 km2) is land and 650 square miles (1,700 km2) (2.6%) is water.[5]
Adjacent boroughs and census areas
Edit
National protected areas
Edit
Demographics
Edit
Historical populations
Census
Pop.
%±
1960
5,188

—

1970
6,509

25.5

%
1980
17,816

173.7

%
1990
39,683

122.7

%
2000
59,322

49.5

%
2010
88,995

50.0

%
Est. 2013
95,192

60.5

%
U.S. Decennial Census[6]
1790-1960[7] 1900-1990[8]
1990-2000[9] 2010-2013[3]
As of the census[10] of 2000, there were 59,322 people, 20,556 households, and 15,046 families residing in the borough. The population density was 2 people per square mile (1/km²). There were 27,329 housing units at an average density of 1 per square mile (0/km²). The racial makeup of the borough was 87.55% White, 0.69% Black or African American, 5.50% Native American, 0.70% Asian, 0.12% Pacific Islander, 0.86% from other races, and 4.57% from two or more races. 2.50% of the population were Hispanic or Latino of any race.
There were 20,556 households out of which 42.30% had children under the age of 18 living with them, 58.90% were married couples living together, 9.10% had a female householder with no husband present, and 26.80% were non-families. 20.30% of all households were made up of individuals and 4.10% had someone living alone who was 65 years of age or older. The average household size was 2.84 and the average family size was 3.29.
In the borough the population was spread out with 32.20% under the age of 18, 7.40% from 18 to 24, 31.10% from 25 to 44, 23.40% from 45 to 64, and 5.90% who were 65 years of age or older. The median age was 34 years. For every 100 females there were 108.20 males. For every 100 females age 18 and over, there were 108.10 males.
Schools in the borough are administered by the Matanuska-Susitna Borough School District.
Politics and government
Edit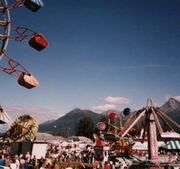 Matanuska-Susitna was among a few places in America carried by Ross Perot in the 1992 presidential election.[11] Larry DeVilbiss is the mayor of the Matanuska-Susitna Borough. The borough has a strong manager form of government. John Moosey is the borough manager. Long-time Manager John Duffy retired in 2010.[12]
Cities and towns
Edit
References
Edit
External links
Edit

Wikimedia Commons has media related to:
Template:Matanuska-Susitna Borough, Alaska
Coordinates: 62°24′N 149°35′W / 62.40, -149.58
Ad blocker interference detected!
Wikia is a free-to-use site that makes money from advertising. We have a modified experience for viewers using ad blockers

Wikia is not accessible if you've made further modifications. Remove the custom ad blocker rule(s) and the page will load as expected.