Matilda FitzRoy
was born circa
1090
to
Henry I of England (1068-1135)
and
Edith
and died
25 November
1120
at the
White Ship Disaster
of drowning. She married
Rotrou III du Perche (c1075-1144)
. Notable ancestors include
William I of England (1027-1087)
,
Charlemagne (747-814)
,
Hugh Capet (c940-996)
,
Alfred the Great (849-899)
. Ancestors are from the
United Kingdom
,
France
,
Germany
, the
Netherlands
,
Belgium
.
White Ship Disaster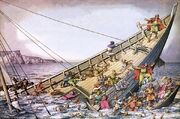 The White Ship was a vessel that sank in the English Channel near the Normandy coast off Barfleur, on 25 Novemeber 1120. Only one of those aboard survived. Those who drowned included William Adelin, the only legitimate son and heir of King Henry I of England, his half-sister Matilda, and his half-brother Richard. This tragedy caused a major succession crisis for the House of Normandy.
Children
Residences
Footnotes (including sources)
| | |
| --- | --- |
| Ω Birth | year of birth from wedding |