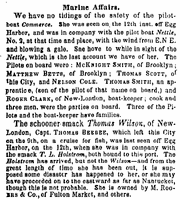 Matthew M. Betts (1796-1853) was a maritime pilot who died in a shipwreak aboard the pilot boat Commerce in 1853. (b. 1796; England - d. January 12, 1853; lost at sea, Egg Harbor, Atlantic County, New Jersey, USA)
He married Nancy King (1801-?) of New York around 1825.
Brooklyn, New York
Edit
In 1850 the family was living in Brooklyn, New York and Matthew was working as a "pilot" and William was working as a "clerk". They were living with Jonas Amos Martin a "ships carpenter".
Lost at Sea
Edit
Matthew was lost at sea on January 12, 1853 and it was reported in the New York Times on January 27, 1853:
"Marine Affairs. We have no tidings of the safety of the pilot boat Commerce. She was seen on the 12th inst. off Egg Harbor, and was in company with the pilot boat Nettle, Number 2, at the time and place, with the wind from East North East and blowing a gale. She hove to while in sight of the Nettle, which is the last account we have of her. The pilots on board were: McKnight Smith, of Brooklyn; Matthew Betts, of Brooklyn; Thomas Scott, of this city, and Nelson Cole. Thomas Smith, an apprentice, (son of the pilot of that name on board,) and Roger Clark, of New London, boat-keeper, cook and three men, were the parties on board. Three of the pilots and the boat-keeper."
External links
Edit