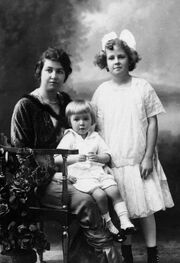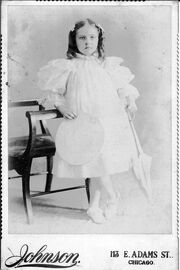 Maud Ainsworth (1892-1966) Housewife (b. June 14, 1892; Chicago, Cook County, Illinois, USA - d. February 28, 1966; Scarsdale, Westchester County, New York, USA)
Biography
Edit
Ray Cannata writes: She was born to Joseph Charles Ainsworth and Annie Young. She was adopted by Annie's sister Emma Young, who was a vaudevillian. Emma went by the stage name "Maud Clifford", and married James McIntyre, black-faced performer. Maud may have had an early marriage, but about 1910-1911 she married Brooklyn attorney and future judge, George Washington Martin II (1876-1948). She had several children including James, Peggy, Betsy, Jean, George, and Walter. She converted to an evangelical faith from nominal Episcopalian/Catholicism in her middle ages.
External links
Edit
Ad blocker interference detected!
Wikia is a free-to-use site that makes money from advertising. We have a modified experience for viewers using ad blockers

Wikia is not accessible if you've made further modifications. Remove the custom ad blocker rule(s) and the page will load as expected.