Lucia-Mahaut de Blois
was born circa
1097
in
Blois
to
Stephen II, Count of Blois (c1045-1102)
and
Adela of Normandy (c1062-1138)
and died
25 November
1120
at the
White Ship Disaster
of drowning. She married
Richard d'Avranches, 2nd Earl of Chester (1094-1120)
. Notable ancestors include
Charlemagne (747-814)
,
Alfred the Great (849-899)
,
William I of England (1027-1087)
,
Hugh Capet (c940-996)
. Ancestors are from
France
, the
United Kingdom
,
Germany
,
Belgium
, the
Netherlands
.
Biography
White Ship Disaster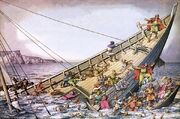 The White Ship was a vessel that sank in the English Channel near the Normandy coast off Barfleur, on 25 Novemeber 1120. Only one of those aboard survived. Those who drowned included William Adelin, the only legitimate son and heir of King Henry I of England, his half-sister Matilda, and his half-brother Richard. This tragedy caused a major succession crisis for the House of Normandy.
Siblings
Offspring of Stephen II, Count of Blois and Adela of Normandy (c1062-1138)
Name
Birth
Death
Joined with


Guillaume of Blois (c1086-1150)
1086 Blois
1150
Agnes de Sully (c1085-c1102)


Theobald II de Champagne (c1088-1152)
1088 Blois, France
8 January 1152
Mathilde von Spanheim (c1107-c1160)


Stephen of England (c1095-1154)
1095 Blois, Loir-et-Cher, Centre-Val de Loire, France
25 October 1154 Dover Priory, Dover, Kent, England, United Kingdom
Damette (c1095-)
Matilda de Boulogne (1105-1152)


Adélaïde de Blois (c1092-c1139)
1092 Blois
1139
Milon de Montlhéry (1085-1118)


Maud of Blois (c1097-1120)
1097 Blois
25 November 1120 English Channel
Richard d'Avranches, 2nd Earl of Chester (1094-1120)


Henry of Blois (c1098-1171)
1098 Blois
8 August 1171


Alix of Blois (c1100-1145)
1100 Blois
1145
Renaud de Joigny (c1090-1134)


Eléonore of Blois (c1104-1147)
1102
1147
Raoul I de Vermandois (1085-1152)


Odo of Blois (c1090-)
1090 Blois


Humbert of Blois (c1094-)
1094 Blois


Agnes of Blois (c1099-1129)
1099 Blois
1129
Hugh III du Puiset (-1132)

Footnotes (including sources)