Full name
Edit
Maurice Michael Renner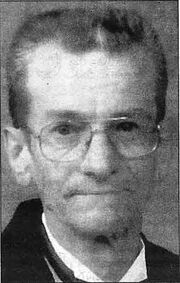 Vital statistics
Edit
Maurice is the son of Clarence Silas Renner (1900-1967) and Helen Frances Eckert (1894-1980).
Offspring
Edit
Biography
Edit
Military Service
Edit
He was a U.S. Army veteran, where he served from July 26, 1955 until June 30, 1957, serving nearly two years. He spent one year overseas and was skilled as a sharpshooter. He was promoted from Private-1 to Private-2 on November 26, 1955 and promoted to Private First Class (T) on September 25, 1956.
Maurice was retired from Kimball International-Jasper Plastics Division.
Memberships
Edit
Contributors
Edit
Maurice M Renner obituary. 2 August 2005, Page 6, Dubois County Herald, Jasper, Indiana.
Maurice Michael Renner discharge papers. 8 July 1957.
Maurice M Renner Memoriam. 11 August 2005, Page 6, Dubois County Herald, Jasper, Indiana.
Social Security Death Index. Ancestry.com SSDI.
External Links
Edit
Gravesite Maps and aerial photos
Ad blocker interference detected!
Wikia is a free-to-use site that makes money from advertising. We have a modified experience for viewers using ad blockers

Wikia is not accessible if you've made further modifications. Remove the custom ad blocker rule(s) and the page will load as expected.