Mehedinți is a county (judeţ) of Romania. It is mostly located in the historical province of Oltenia, with one municipality (Orșova) and three communes (Dubova, Eșelnița and Svinița) located in the Banat. The county seat is Drobeta-Turnu Severin.
Demographics
Edit
In 2002, it had a population of 306,732 and the population density was 62/km².
| Year | County population[3] |
| --- | --- |
| 1948 | 304,788 |
| 1956 | 304,091 |
| 1966 | 310,021 |
| 1977 | 322,371 |
| 1992 | 332,673 |
| 2002 | 306,732 |
Geography
Edit
This county has a total area of 4,933 km².
In the North-West there are the Mehedinţi Mountains with heights up to 1500 m, part of the Western end of the Southern Carpathians.
The heights decrease towards the East, passing through the hills to a high plain - the Western end of the Romanian Plain.
In the South the Danube flows, forming a wide valley, with channels and ponds. Another important river is the Motru River in the East side, an affluent of the Jiu River. Also, in the West side there is the Cerna River forming a passage between the Oltenia region and the Banat region.
Neighbours
Edit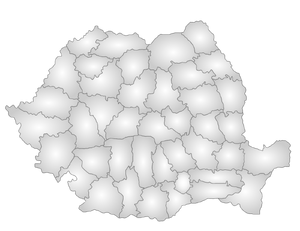 The energetic sector is highly developed in the county, on the Danube being two big hydro electrical power plants (Iron Gates I and Iron Gates II). Also in NE of Drobeta-Turnu Severin there is a heavy water complex (Romag Prod).
The predominant industries in the county are:
Chemical industry.
Food and beverages industry.
Textile industry.
Mechanical components industry.
Railway and ship equipments industry.
Wood and paper industry.
In the North, coal and copper are extracted.
The South is mainly agricultural, suited for growing cereals on large surfaces. Also vegetables are cultivated and there are important surfaces of wines and fruit orchards.
The main touristical destinations are:
Administrative divisions
Edit
Mehedinţi County has 2 municipalities, 3 towns and 61 communes
References
Edit
External links
Edit

Wikimedia Commons has media related to:
Ad blocker interference detected!
Wikia is a free-to-use site that makes money from advertising. We have a modified experience for viewers using ad blockers

Wikia is not accessible if you've made further modifications. Remove the custom ad blocker rule(s) and the page will load as expected.