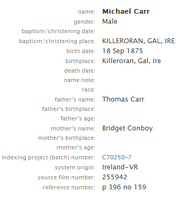 Michael Carr (1875 or 1880-1906) died as a young man (b. 1880, County Roscommon, Ireland - d. November 21, 1906, Manhattan, New York City, New York, USA)
He died on November 21, 1906 in Manhattan. His death certificate number is "35832". He was 26 years old.
He was buried on November 22, 1906. The plot also contains: James Joseph Kennedy (1866-1926); Katherine Carr (1865-1951) aka Kitty Carr, who was married to James Joseph Kennedy; James Kennedy (1902-1903) who is the child of James and Katherine; Sarah Josephine Kennedy (1899-1900) who is the child of James and Katherine; and Antoinette Granato (1916-1942) who was the wife of James Gerard Kennedy I (1907-1997).
Uncompleted Task
Edit
Order his death certificate.
Ad blocker interference detected!
Wikia is a free-to-use site that makes money from advertising. We have a modified experience for viewers using ad blockers

Wikia is not accessible if you've made further modifications. Remove the custom ad blocker rule(s) and the page will load as expected.