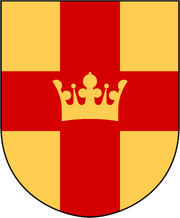 Michael Huss (1782-1836) Minister of Mo from 1827 through 1836.
Swedish Biography
Edit
Michael Huss, f. 21 September 1782, son af khden i Hammerdal Er. Joh. Huss och Stina Greta Forsman. Intogs i Frösö skola 1792; stud. i Upsala 1803; prästv. till past. adj. i Hede 14 juli 1814. Nådårspredikant på Frösön 10 jan. 1816, v. komm. i Arnäs fr. 1 maj s. å., kapellpred. i Linsell i mars 1818, kapellpred. i Stugun och Borgvattnet 7 mars 1821; afl. past. ex. 17 dec. 1822; erhöll kgl. fullmakt 29 nov. 1826 ss. khde i Mo, hvilken befattning han tillträdde 18 mars 1827. Afled här 3 juni 1836. G. 6/11 1818 i Hede prästg. m. Catharina Helena Ruuth, dotter till khden J. Chr. R. och Cath. Maria Martinell; d. 1881. Barn: Catharina Margareta, f. 19/8 1819; d. 1820, 7 mån. g.; Catharina Elisabeth, f. 10/1 1821, g. 22/6 1860 m. skolläraren och organisten Per Ödlund i Arnäs; Erik Johan, f. i Stugun 15/5 1824, stud. 1844, under viaticering ådrog han sig en förkylning och afled i Nordmalings prästgård, ömt vårdad hos prosten Berlin, 23/4 1845; Carl Johan, f. 8/3 1827, skollärare och kantor i Själevad, d. 31/12 1907.
External link
Edit
Ad blocker interference detected!
Wikia is a free-to-use site that makes money from advertising. We have a modified experience for viewers using ad blockers

Wikia is not accessible if you've made further modifications. Remove the custom ad blocker rule(s) and the page will load as expected.