Muhlenberg County is a county located in the U.S. state of Kentucky. As of 2000, the population was 31,839. The county is named for Peter Muhlenberg. Its county seat is Greenville
Geography
Edit
Muhlenberg County is part of the Western Coal Fields region of Kentucky. According to the U.S. Census Bureau, the county has a total area of 1,242 km² (479 sq mi). 1,230 km² (475 sq mi) of it is land and 12 km² (5 sq mi) of it (0.98%) is water.
Geographic features
Edit
The two primary geographic features of Muhlenberg County are the Green River and Lake Malone.
Green River
Edit
The 300-mile-long Green River is a tributary of the Ohio River. It provides a commercial outlet for goods (primarily coal) to be shipped from the county to the major trade centers along the Mississippi River. Muhlenberg County and the Green River will forever be linked in the minds of many by the John Prine song "Paradise" about a (now defunct) coal-mining town in Muhlenberg County.[1]
Lake Malone
Edit
Spanning 788 acres near the small town of Dunmor in southern Muhlenberg County, Lake Malone provides a locale for water recreation such as swimming, boating, and fishing. Lake Malone and the surrounding hardwood forest form Lake Malone State Park.
Adjacent counties
Edit
Demographics
Edit
Historical populations
Census
Pop.
%±
1900
20,741

—

1910
28,598

37.9

%
1920
33,353

16.6

%
1930
37,784

13.3

%
1940
37,554

−0.6

%
1950
32,501

−13.5

%
1960
27,791

−14.5

%
1970
27,537

−0.9

%
1980
32,238

17.1

%
1990
31,318

−2.9

%
2000
31,839

1.7

%
Kentucky Census Data 1900-1990
As of the census² of 2000, there were 31,839 people, 12,357 households, and 9,057 families residing in the county. The population density was 26/km² (67/sq mi). There were 13,675 housing units at an average density of 11/km² (29/sq mi). The racial makeup of the county was 94.19% White, 4.65% Black or African American, 0.13% Native American, 0.13% Asian, 0.19% from other races, and 0.72% from two or more races. 0.73% of the population were Hispanic or Latino of any race.
There were 12,357 households out of which 30.70% had children under the age of 18 living with them, 59.70% were married couples living together, 10.40% had a female householder with no husband present, and 26.70% were non-families. 24.30% of all households were made up of individuals and 12.60% had someone living alone who was 65 years of age or older. The average household size was 2.45 and the average family size was 2.90.
In the county the population was spread out with 22.60% under the age of 18, 9.20% from 18 to 24, 28.00% from 25 to 44, 24.80% from 45 to 64, and 15.50% who were 65 years of age or older. The median age was 39 years. For every 100 females there were 98.00 males. For every 100 females age 18 and over, there were 96.20 males.
The median income for a household in the county was $28,566, and the median income for a family was $33,513. Males had a median income of $29,952 versus $18,485 for females. The per capita income for the county was $14,798. About 15.50% of families and 19.70% of the population were below the poverty line, including 26.00% of those under age 18 and 17.00% of those age 65 or over.
Cities and towns
Edit
Muhlenberg County has been a major coal-producing region for many years, and although the use of coal for energy generation has waned in recent years, the coal-mining industry continues to provide a significant number of jobs in the region. Other major employers in Muhlenberg County include:
Chamber of commerce
Edit
In January 2006, the chambers of commerce from Central City and Greenville merged to form the Greater Muhlenberg Chamber of Commerce. The new, unified chamber is comprised of over 155 local businesses.[2]
Incoming industries
Edit
Peabody Energy's new Thoroughbred Energy Plant, a coal-burning power generation facility expected to bring 450 permanent jobs to the area, is to be located in Central City.[3] The plant was projected to begin electricity generation sometime in 2007,[4] but a dispute over Peabody's air quality permit has halted construction plans.[5]
On April 25, 2006, frozen food company Gourmet Express announced plans to locate a facility in Greenville. The company will renovate the facility vacated by food distribution company SuperValu in 2001, and is expected to create 200 permanent jobs by 2008.[6]
Education
Edit
Public schools in Muhlenberg County are under the purview of the Muhlenberg County Board of Education. They include:
Elementary (K-5)
Edit
Middle (6-8)
Edit
High (9-12)
Edit
Postsecondary
Edit
The Muhlenberg Campus of Madisonville Community College is located in Central City.
Libraries
Edit
There are two public libraries in Muhlenberg County: Harbin Memorial Library in Greenville and Central City Library in Central City. Both locations provide residents with free access to high speed Internet service.
There were once eight schools in Muhlenberg County, however in 1990, the school board consolidated the middle and high school students into just two middle and two high schools. Bremen High School, Central City High School, Graham High School, and half of Muhlenberg Central High School became Muhlenberg North Middle School and Muhlenberg North High School, while the other half of Muhlenberg Central High School, Drakesboro High School, Hughes-Kirkpatrick High School, Greenville High School, and Lake Malone School (which housed some middle school students) became Muhlenberg South Middle School and Muhlenberg South High School. The eight distinct schools continued to house elementary school students.
In 2004, the school board began consolidating the badly-deteriorating elementary schools, closing Graham Elementary School and transferring students to Longest Elementary School and the expanded Greenville Elementary School, and closing Lake Malone School transferring those students to Hughes-Kirkpatrick Elementary School. Consolidation continued in 2005 with the closure of Drakesboro Elementary School. Students from Drakesboro spent a year at Hughes-Kirkpatrick Elementary School until the opening of the newly-constructed Muhlenberg South Elementary School in 2006 (and subsequent closing of Hughes-Kirkpatrick.)
Sites and events of interest
Edit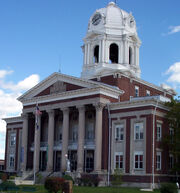 Notable natives
Edit
References
Edit
External links
Edit
Coordinates: 37°13′N 87°09′W / 37.21, -87.15
Ad blocker interference detected!
Wikia is a free-to-use site that makes money from advertising. We have a modified experience for viewers using ad blockers

Wikia is not accessible if you've made further modifications. Remove the custom ad blocker rule(s) and the page will load as expected.