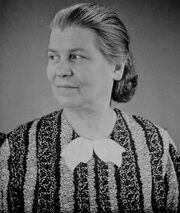 Nanny Amanda Natalia Haglund
b. Sjögren in Ronneby, Blekinge county, Sweden Febr 7 1887.
Karl Magnus Sjögren (1853-1938)
Vilhelmina Judith Amanda Sjögren b. Englander (1855-1943).
Karl Henrik Louis (1880-1968)
Ester Amanda Linnéa (1882-1968)
Ruth Amanda Naëmi (1884->/=1918)
Karl Ivar Rickard (1887-1918), Nanny´s twin brother
Karl Hugo Albin (1888-1964)
Ester and Ruth emigrated to the USA, Ester 1900 and Ruth 1911. Ester remained unmarried, returned to Sweden in older days and is buried in Barkåkra cemetery near Ängelholm.
Ruth married Karlsson in Stockholm, divorced in the USA 1912, then disappeared and after some years declared non-existing.
1907 married in Falköping, Västergötland´s county, Sweden to Sven Johan Haglund
b. Svensson. Nov 1 1879 in Ljusseveka, Värmamo, Jönköping´s county, Sweden,
d. Dec 8 1915 in Länna, Almunge parish, Uppland´s county, Sweden. Burial: Almunge kyrkogård/cemetery
With Sven Johan Haglund:

with Erik Johansson, Huskvarna, Jönköpings county:

From 1935 guardian of grandson

Ulf Lennart Sebastian Haglund (1928-).
Aug 8 1981 at 'Junegården' (old people´s home) in Jönköping, ditto county, Sweden.
Östra kyrkogården/cemetery Jönköping, block (ring) 37, GPS N 57º 46' 618" / E 14º 12' 180" (appr.).
Biography
Edit
Nanny Amanda Natalia Haglund (maiden name Sjögren) was born in Ronneby, Blekinge (county), Sweden. Her parents were schoolteacher Karl Magnus Sjögren from Vissefjärda, Kronoberg county and Amanda Sjögren b. Englander from Almundsryd, Småland.
In 1907 she married Sven Johan Haglund, born in Värnamo, Småland 1879. From 1908 to 1915 they had one daughter and three sons.
Sven Johan died from a heartattack on Dec 8 1915, the family then living in Länna, Uppland (county).
Nanny and the children had to return to Huskvarna in Jönköping county, their last parish for residential registration, and she lived there for most of her life.
In 1921 Nanny had another daughter. She was also from 1935 to 1948 the guardian of a grandson. Her last two years were spent in an old people's home, Junegården, in Jönköping, Småland.
External links
Edit