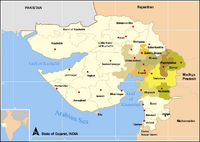 Narmada district (Gujarati: નર્મદા જીલ્લો) is an administrative district in the state of Gujarat in India. The district headquarters are located at Rajpipla. The district is bounded by Vadodara district in the north, by Maharashtra state in the east, by Tapi district in the south and by Bharuch district in the west. The district occupies an area of 2749 km² and has a population of 514,404 (as of 2001). It was 10.13% urban as of 2001.[1]
As of 2011 it is the third least populous district of Gujarat (out of 26), after Dang and Porbandar.[2]
This district was carved out on October 2, 1997. The newly formed district consisted of Tilakwada taluka of erstwhile Vadodara district and 3 talukas of erstwhile Bharuch district: Nandod, Dediyapada and Sagbara.[3]
Divisions
Edit
The district consists of 4 talukas: Nandod, Sagbara, Dediyapada and Tilakwada.
In 2006 the Ministry of Panchayati Raj named Narmanda one of the country's 250 most backward districts (out of a total of 640).[4] It is one of the six districts in Gujarat currently receiving funds from the Backward Regions Grant Fund Programme (BRGF).[4]
Demographics
Edit
According to the 2011 census Narmada district has a population of 590,379 ,[5] roughly equal to the nation of Solomon Islands[6] or the US state of Wyoming.[7] This gives it a ranking of 528th in India (out of a total of 640).[5] The district has a population density of 214 inhabitants per square kilometre (550 /sq mi) .[5] Its population growth rate over the decade 2001-2011 was 14.77 %.[5] Narmada has a sex ratio of 960 females for every 1000 males,[5] and a literacy rate of 73.29 %.[5]
External links
Edit
Ad blocker interference detected!
Wikia is a free-to-use site that makes money from advertising. We have a modified experience for viewers using ad blockers

Wikia is not accessible if you've made further modifications. Remove the custom ad blocker rule(s) and the page will load as expected.