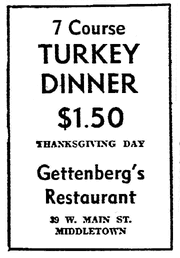 Nathan Gettenberg (1902-1995) Restaurant owner in Middletown and Port Jervis (b. December 22, 1902; Kolbuszowa, Poland - d. November 05, 1995; Middletown, Orange County, New York, 10940, USA)
They were living in Brooklyn, Kings County, New York in 1930.
Restaurant
Edit
He operated Gettenberg's Restaurant in Middletown and later Port Jervis from as early as 1941 to at least 1947.
He died on November 05, 1995 in Middletown, Orange County, New York.
Ad blocker interference detected!
Wikia is a free-to-use site that makes money from advertising. We have a modified experience for viewers using ad blockers

Wikia is not accessible if you've made further modifications. Remove the custom ad blocker rule(s) and the page will load as expected.