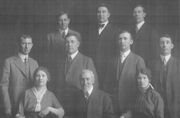 Nels Hemwall (1875-1965) aka Nils Hansson; Emigrant from Sweden to USA in 1898; Carpenter (b. September 07, 1875, Brösarp, Skåne, Sweden - d. September 1965, Oak Park, Cook County, Illinois, USA)
Hemwall is a unique name in the US and all Hemwalls are a descendant of Hans Hemwall. The oral family story about the name Hemwall comes from Robert (Bob) Hemwall of Vermont: "They were all Hansens and they were from Sweden. The first one over looked in the City Directory and saw all the names were already Hansen so he took the name Hemwall" The name Hemwall is unique to them in the United States.
Nels is the son of Hans Andersson Hemwall (1843-1921) aka Hans Andersson and Johanna Larsdatter (1853-1900).
Alfred Hemwall (1872-1954) aka Frederick Hemwall who married Ellen Ingeborg Johnson (1871-1948)
John Hemwall (1873-1946) aka Johan Hemwall who married Ebba C. Lawson (1874-1956)
Lars Hemwall (1879-1965) who married Josephine M. Nilsson (1893-?)
George Hemwall (1881-1951) aka Goran Hemwall who married Anna E. X and was married to Maria X and lastly married to Emily Sundin
Emil Hemwall (1888-1965) who married Amelee Blekinge Linquist (c1888-?)
Margarit Hemwall (1891-1983) who married Carl P. Rose (c1890-?)
Anton S. Hemwall (1893-1903) who had a heart defect and died as a youth
Emigration
Edit
The first to the US were Alfred and John, who came over in 1891 and they chose the name Hemwall. Nels, and the remaining family came to the US in 1898.
Marriage:
Edit
Nels married Ida Anderson (c1875-1939). Ida was born in Wisconsin and her parents were from Norway.
Nels and Ida had the following children: Florence M. Hemwall (1903-1999) who married Walter H. Williamson (1906-1984); Ethel Hemwall (1905-1911) who died as a youth; and Harold J. Hemwall (1908-1988) who married Alice Elizabeth Hanson (1903-1995).
Second marriage
Edit
Around 1940 Nels married Mary Marie Jensen (1883-1969).
Nels and Ida appear in the 1930 US Census living in Chicago and Nels is incorrectly indexed as "Nels Hamwall". They are living at 1053 Lamington? Avenue in a two family house that they own and it is valued at $12,000. Their tenants pay $50 per month for rent. Nels is working as a carpenter on West Park Boulevard and Harold is working as a draftsman for a milk machinery company. Florence Hemwall is working as a stenographer at the Pullman Company.
Mount Emblem Cemetery, Elmhurst, DuPage County, Illinois, USA