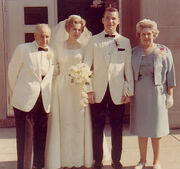 Norman Otto Olson I (1895-1977) was a clerk at Montgomery Ward and laundry delivery driver. (b. August 29, 1895, Chicago, Cook County, Illinois, 60619, USA - d. March 19, 1977, Chicago, Cook County, Illinois, 60619, USA. Social Security Number 325098915.
On his birth certificate Norman was listed as "Fredie Otto Olsen" and on April 13, 1938 the name was officially changed to "Norman Otto Olson" and the witness was his brother, Harry Oliver Olson.
His siblings include: Tille Olson (1885-1918) who married Norval Wintrone (1890-1918) in Wisconsin, and they both died in the influenza pandemic of 1918; Harry Oliver Olson (1887-1964); and Helen Olive Olson (1900-1970) who married John Lozinski (1896-1980) and later married Frank Kirpichoff (1891-1965).
World War I draft
Edit
On June 05, 1917, Norman filled out his draft card for World War I while he was living at 465 Milwaukee Avenue in Chicago. He was working as a clerk at Montgomery Ward and also appears in that year's Chicago City Directory.
First marriage
Edit
Norman married Isabelle Trautlein (1901-1931) on December 31, 1919 in Chicago, Illinois. They had one child, Norman Otto Olson II (1921-1967) who died under the name "Norman Wickman". Isabelle was murdered by her husband and Norman was raised by Minnie Trautlein who had married a Wickman.
Chicago, Illinois
Edit
In 1930 Norman and Isabelle were living at 1655 Orchard Street in Chicago and he was working as a driver for a laundry service. They were paying $30 a month for rent.
Death of wife
Edit
Norman appears to have murdered his wife with a gunshot to her abdomen in 1931. The information comes from her death certificate.
Second marriage
Edit
After Isabelle died, Norman married Eva Folkerts (1904-2000) and they had three children.
He died in 1977 while living at 4034 North Kimball Street.
He was buried in Memory Gardens Cemetery on March 21, 1977 in the Garden Court Mausoleum on the North side of level 2 in niche D39. His account number for the mausoleum is M14873.