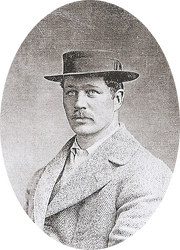 Norval Wintrone (1890-1918) died in the 1918 flu pandemic. (b. March 1890, Dallas, Barron County, Wisconsin, USA - d. 1918; Devils Lake, Ramsey County, North Dakota, USA)
He married Tille Olson (1885-1918) on March 26, 1913 in Chicago, Illinois, She was the daughter of Otto Olson (1858-1921) and Hannah E. Hansen (1864-1936).
Homesteader
Edit
He chose to be a homesteader rather than serve in World War I and moved to Devils Lake, Ramsey County, North Dakota.
Influenza pandemic
Edit
Norval, his wife, and one of their two children died in the 1918 flu pandemic that killed 2,700 North Dakotans. The epidemic started at Fort Riley in Kansas in March 1918.
Norval was buried in New Scandanavia Lutheran Church Cemetery, Dallas, Wisconsin on October 29, 1918.
His surviving daughter: Hazel Wintrone (1916- ) was then raised by her maternal grandparents.
Memories about Norval Wintrone
Edit
Ruth Wieland wrote on August 20, 2012: "I visited with Uncle Carl (Dallas, WI) last week. He showed me two pictures of Norval Wintrone and told me the story as told to him. (As you may recall, Carl was born in 1918 and does not remember the death/s. As he heard from other family members, Gilbert died first ( He was an ambulance driver in WWI.) When his body was returned, the casket was sealed. Gertie Grindy wanted to see his body and Norval opened the casket. After that, both Norval and his wife returned to their home. Norval thought he had recovered from being ill, lifted a bag of oats or something, set it down and died."
External links
Edit