James "Smoking Jimmy" Gillespy's tombstone is located at Oak Spring Cemetery, Canonsburg, Washington Co., PA. The photo below was taken in the 1960s by James E. Freeman (residing in Camas, WA ... 2006).
At the time the photo was taken, it is apparent "Smoking Jimmy" was buried beside his granddaughter -- Ellen Jane E______ B_____ CARSON (b. 18 April 1831; d. 31 Mar 1858). However, in 2005, his tombstone had weathered considerably in 40 years and had fallen off its supporting pedestal (see photos below). Ellen (Gillespy) Carson's tombstone no longer exists and the only evidence of her grave are the "rails" ... see photos below.

Tombstone inscription reads:
James Gillespy
Born
Sept. 10, 1772
Died
Jan. 6, 1861

2006 view of the fallen Gillespy tombstone ... obviously, from this picture, there is still legible text on James Gillespy's tombstone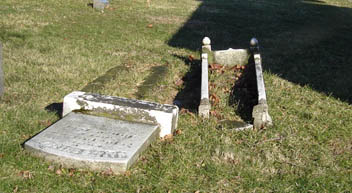 2005 view of the fallen Gillespy tombstone ... hard to read due to the snow ...
Photos courtesy of: James E. Freeman, Margie Cowan (mcowan @ erols.com), Gina Nestor
Ad blocker interference detected!
Wikia is a free-to-use site that makes money from advertising. We have a modified experience for viewers using ad blockers

Wikia is not accessible if you've made further modifications. Remove the custom ad blocker rule(s) and the page will load as expected.