Olive Emily Black
was born
19 January
1913
in
Northam
,
Western Australia
,
Australia
to
Frederick James Black (1882-)
and
Sarah Ethel Dillon (c1889-)
and died
21 April
1970
in
Brisbane
,
Queensland
,
Australia
of unspecified causes. She married
Donald Arthur Stickler (1911-1986)
25 May 1931 in
Australia
. Ancestors are from
Australia
.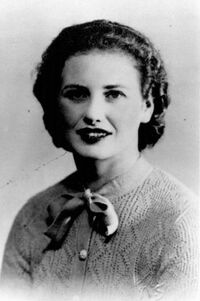 Olive Emily Black was born on 19 January 1913 at Northam, Western Australia (the photo on the left is of Olive when she was about 27. She had blue eyes and auburn to fed hair). Her parents were Frederick James Black, born 1882, in New South Wales, Australia, and Sarah Ethel Dillon born 1889, in Victoria, Australia. She had a brother and sister, Jack Cecil Black and Marjorie Helen Black.
Siblings
Jack (her brother), the baby of the family, was born on the 27 February 1922.
In the war (WW2) he served as a rear gunner in the air force, then Squadron Leader. He was awarded the DFC and other awards during his service in the war. During his service in England he met and married Audrey. They returned to Australia where they had three children, the eldest a girl, and two boys. Jack retired from the forces in the 1970's as Wing Commander.
Herbalist
Audrey (the wife of Jack Black, Olive's brother) a herbalist gave 300 almonds to a bride at her wedding in 1988. It's an Old Italian custom, which has been adopted in Australia, to do the almonds up with lace into small pretty bundles. The number of almonds in each bundle must be an odd number, for good Luck.
New husband, new life
Olive Emily Black was divorced from Donald Arthur Stickler (1911-1986), her husband, in 1941; and later married a John Bull. Pat Stickler (daughter of Olive Black) didn't see her mother again after her parents separated. Pat's Aunt told her that her mother spoke often of her, and saw her marriage photo in the paper. So Pat felt that in away her mother kept in touch with her; but bitter that her mother's side of the family wasn't talked about after the separation.
Accidental death
Olive Black died in Brisbane, Australia on the 21 April 1970 when she fell from a moving bus. Buses didn't have closing doors in those days. She lingered for three days, and then died without regaining consciousness.
Children
Footnotes (including sources)
Contributors