Born: 17 July 1881 (TLW Notes)
Married: Minnie Pritchard (?-?) (TLW Notes)
Died: 25 June 1939 (TLW Notes)+
Burial:
Patrick was the son of James S. Morrow (1846-1902) and Ellen Stackpole (1847-1901). James family came to America from Ireland c.1836 ten years before the beginning of the Irish Potatoe Famine. They settled in Moretown, and later Waterbury, Washington County, Vermont. Ellen's family is not known,but she consistently gave her place of birth as Ireland in US Census records, and her children's census records when adults show their mother as having been born in Ireland. Whether she came to America alone as a young woman, or came with her parents is unknown. Family tradition, from descendant Evelyn Francis Morrow (1913-2005) tell us that she had a "hard early life"; this may indicate that she came to America during the Potatoe Famine.
Spouse(s)
Edit
Child List
Edit
Family History
Edit
Alternative Interpretation
Edit
Some researchers have identified Patrick Henry Morrow as the Henry M. Morrow who died In Cascadia, Silver Bow Co, Montana in 1966. The basis for this is not clear. Henry M's wife is shown as "Minnie", consistent with Patrick Henry Morrow, but his father is shown in census records as having been born in "French Canada", not Vermont. It does not seem likely this individual is Patrick Henry Morrow.
1930 Census record, Butte, Silver Bow, Montana, Ancestry 2006
Henry M Morrow
Home in 1930:
Age: 49
Estimated Birth Year: abt 1881
BirthPlace: Montana
Relation to Head of House: Head
Spouses's Name: Minnie
Race: White
Household Members:
Name Age
Henry M Morrow 49
Minnie Morrow 45
Ernest E Laverne 13
Gordon Morrow Coeur d'Alene Private family service for Gordon F. Morrow, 83, was held. Yates Funeral Home in Coeur d'Alene is in charge of arrangements. Spokesman Review, The (Spokane), 6/24/97 ·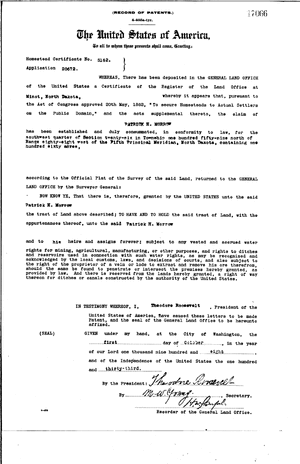 Names
Patentee: PATRICK H MORROW

Survey
State: NORTH DAKOTA Acres: 160 Metes/Bounds: No

Title Transfer
Issue Date: 10/1/1908 Land Office: Minot Cancelled: No U.S. Reservations: Yes Mineral Reservations: No Authority: May 20, 1862: Homestead EntryOriginal (12 Stat. 392)

Document Numbers
Document Nr.: 5162 Misc. Doc. Nr.: 20672 Accession/Serial Nr.: 17066 BLM Serial Nr.: NDMTAA 061793
References
Edit
Research Needs
Edit
Page Needs
Edit
Contributors
Edit
Ad blocker interference detected!
Wikia is a free-to-use site that makes money from advertising. We have a modified experience for viewers using ad blockers

Wikia is not accessible if you've made further modifications. Remove the custom ad blocker rule(s) and the page will load as expected.