Peter Broomberry & Dicey Walker
Edit
Peter Broomberry (c.1767-after 1830) and Ducay (Dicey) Walker (1771-1823) were married in 1790 in Washington County, Virginia by Nicholas Reagan, an early Methodist minister in the Saltville-Clinchburg area on the North Fork of the Holston River. Bishop Francis Asbury held the first Methodist conference west of the Alleghenies at the residence of Stephen Keywood (Cawood) and Hester Berry near Reverend Reagan's home in 1788. Methodism continued to play a strong influence in the lives of successive generations of the Brimberry family as evidenced below. See Spicey and Dicey Notes.
Dicey Brimberry's Walker Line
Dicey (Walker) Brimberry's parents are unknown. However, she is likely descended from one of five different Walker lines found in early [Washington County, Virginia]. Dicey Walker's younger sister, Spicy (1776-1821) was married a few months after Dicey and Peter. Spicy was married to James Meek, son of Joseph and Lydia Meek. Spicy (Walker) Meek's father-in-law owned a large parcel of land known as the Big Springs tract on the south side of the Great Wilderness Road (present-day U.S. 11) between Abingdon and Marion, Virginia (near Exit 32 of Interstate-81 which parallels U.S. 11 and literally cuts through the Big Springs tract). Bakers Creek intersected the road a short distance to the west of Joseph Meek, Sr.'s Big Spring tract. Survey records show that Peter's father, Matthias Brimberry, also lived nearby on Bakers Creek near the "old Indian path". Dicey's sister and her husband lived in the Old Meek Stone House, which still stands near the intersection of U.S. 11 and County Road 751 or Fleet Road (I-81 Exit 32).
Dicey's sister Spicy Walker and her husband James Meek are of interest because of information gleaned from the past about Dicey's nephew, Joseph Lafayette Meek. Joe Meek gained fame as a mountain man and Western explorer who helped blaze the Oregon Trail. The subject of three biographies, Meek purportedly was related to President James K. Polk by marriage through their "Walker kin" however this is unproven. Subsequent research showed that President Polk's two sisters married grandsons of Joseph Walker of Rockbridge County, Virginia. Joseph Walker's grandnephew, Joseph R. Walker, also gained famed as a western explorer.
Suffice Joseph R. Walker of California fame and his brother Joel Walker frequently explored the west with Joe Meek and his brother Stephen Meek. The foursome all participated in the Bonneville expedition with Joseph R. Walker acting as chief pilot or guide of the exploring party. Oren Morton, author of "The History of Rockbridge County, Virginia", claimed that the roots of western explorers and mountain men Joseph R. Walker and Joe Meek could both be traced to Rockbridge County. While this is true of the Walker brother's parents, Joseph Walker and Susan Willis, there is no proof of kinship with the Meek brother's mother, Spicy Walker. Hence the parents of Dicey and Spicy Walker remain a mystery at this time. Click the following link for additional information concerning Dicey and Spicy and the [of Early Washington County, Virginia].
James Meek and Spicy Walker, too, were married in Washington County, Virginia by Reverend Nicholas Reagan and were devout Methodists. A full-page obituary and eulogy appeared in the national Methodist Magazine following Spicy's death in 1821 at age 44. Two years later, Dicey Walker's obituary appeared in another Methodist publication, the Mt. Zion (Georgia) Missionary: "Mrs. Dicey Brimberry, died no date given in Greenville District, S.C., 52 years, wife of Mr. Peter Brimberry. (Nov., 1823)"
AUTHOR'S NOTE: Dicey's first born child was named Sarah. Naming practices of that time, suggest that Dicey's mother's first name may have been Sarah, especially since her second born daughter Mary was undoubtedly named after Peter's mother. Another daughter, Susan W., may also offer a clue to Dicey's mother's name if Susan's middle initial stood for Walker. Dicey's sister Spicy Meek also had a daughter named Susan. While Spicy also had a daughte named Dicey after her sister, it should also be noted that she did not have a daughter named Sarah, albeit she had a daugher and son named after her husband's parents as was also the case with Dicey.
Peter Brimberry's Swedish Ancestors
Peter Brimberry was the eldest son of Matthias Brimberry and Mary Anderson, both of whom were of Swedish stock. They were married March 11, 1766 at Holy Trinity (Old Swedes) Church. Matthias was born in 1736 in present-day Wilmington, New Castle County, Delaware; and died c.1811 in Kentucky. Mary was born in 1748 in Wilmington, and died after 1785. Their children: Peter, Jacob, Joseph, John, Isaac, William and Samuel.
As reported elsewhere in this narrative, Peter Brimberry's father, Matthias, was 14 when Matthias' mother died in 1750. In 1752, Matthias' father, Christiern Brunberg (pronounced Brunberry) died. As prescribed in Christiern's will, Matthias was "lett out to a trade" and learned wagon making, a craft handed down three generations from Matthias to Peter to the narrator's great-great grandfather, Matthias Brimberry (1799-1854).
In 1768, Mary and her husband, Matthias Brimberry, and their son Peter, moved to Orange County, NC with her parents and several other Swedish families. Six more sons (Jacob, John, Joseph, Isaac, William, and Samuel Brimberry) were born in NC, forming the seven branches of the Brimberry family in the United States. And, as the frontier west of the Appalachian Mountains opened to settlement following the Revolution, the Brimberrys and their kindred crossed the mountains into southwest Virginia and Kentucky, or followed the Piedmont into SC and Georgia.
Peter and Dicey (Walker) Brimberry's Children
Soon after marrying, Peter and Dicey (Walker) Brimberry moved to Greenville District, SC where, like his father, Peter was a wagon and carriage-maker for more than 30 years. Peter and his wife, Dicey, remained active communicants in the Methodist faith, and had 10 known children, all of whom moved to Georgia. Four older children appeared in Hancock County by 1820; and, the remainder moved to Georgia a few years after their mother's death in Greenville in 1823. The last record of Peter is found in Greenville, SC in 1829. His youngest son, William Harrison Brimberry remained in SC until 1833, after which William and three younger sisters appeared in the marriage records of Morgan County or Walton County between 1833-1838. Their oldest surviving brother, Matthias, appeared on the 1830 census in Walton County, served as captain of a local militia district there in 1831, and moved to Morgan County the following year, strongly suggesting that Matthias father died about 1831, and his five younger siblings, ages 11-19, became his charges.
Peter and Dicey (Walker) Brimberry's had 10 children and 25 known grandchildren:
1. Sarah Brimberry m. Ryel Black
2. Mary Brimberry m. (1) John Owen (2) John Moss
3. John Brimberry m. Mary Archer
4. George Anderson Brimberry m. Nancy Morris
5. Matthias Brimberry m. Elizabeth Minton
6. Susan W. Brimberry m. Alfred Shaw, Jr.
7. Elizabeth Brimberry m. Fielding W. Arnold
8. William Harrison Brimberry m. (1) Arminda Reynolds (2) Sarah Blythe
9. Amelia Caroline Brimberry m. Dixon W. Darnell
10. Armanda Brimberry m. David A. Barron
Sarah Brimberry
Edit
7.1.1 Sarah Brimberry (c.1791 SC-1823 GA) married 1821 Royal (Ryel) Black in Hancock County, Georgia (no issue), and died there October 1823 at age 32. Her obituary appeared in the Methodist Mt. Zion Missionary on Nov. 3, 1823 beside her mother's obituary. Sarah's husband afterwards married Nancy Middlebrooks.
Mary Brimberry
Edit
7.1.2 Mary Brimberry (March 24, 1793 SC-after 1850 GA), married (1) John Owen, born 1780; (2) John Moss. Mary and John Owen had one known child: Anna Marie Owen (1815 SC-1897 GA). Mary (Brimberry) Moss was living in Talbot County, GA in 1838, and was still there in 1850 with her daughter, Anna, her son-in-law, David A. Cottingham, and their two children, John and Allace. David was a master carpenter who, along with his brother James D. Cottingham, built many fine antebellum homes and plantation houses in Talbotton and Talbot County.
It is also noteworthy that Cottingham helped build the James Thomas Owen plantation mansion. Owen was the son-in-law of William Blount Marshall and his wife Mary Annice Flourney (daughter of Reverend Francis Flourney of Morgan County) who conveyed 160 acres to Mary Brimberry Owen Moss' brother-in-law Dixon W. Darnell in 1876 in Ouachita County, Arkansas, strongly suggesting a familial relationship between the Brimberry-Marshall-Owen families. James Thomas Owen was the son of Daniel and Sarah Willis Owen, and Daniel may have been Mary Brimberry's first husband's brother. Also see Amelia C. Brimberry-Dixon W. Darnell.
John Brimberry
Edit
7.1.3 John Brimberry (c.1795 SC -1830 GA), a wagon maker, married Mary Archer in Hancock County, GA in 1820. Mary was the daughter of Frederick and Sarah Archer. Following John's death, she married Jesse Pittman and they moved to Bienville Parish, Louisiana. John and Mary Brimberry had one child, John F. Brimberry (1826-1872), who settled near Robert, La. in Tangipahoa Parish. John F. Brimberry married 1856 Mildred Robertson (1830-1890), daughter of William and Eliza (Bengtssen) Robertson. Their children: Emma Jane (born 1857, married Charles Wesley White, 1874; Charles H. Eagen, 1877---childless); and Neva (born 1860-died 1939, married John Painting, 1876---seven children). A carpenter, John F. Brimberry served in Co. C, Mile's Louisiana Legion. He was captured and paroled twice near Vicksburg. He is interred in Robert.
As her first-born son, naming practices of that time, suggest that Dicey's father's first name may have been John, especially since a later born son was named Matthias after Peter's father.
George Anderson Brimberry
Edit
7.1.4 George Anderson Brimberry (c.1797 SC-1828/29 GA)married 1820 Nancy Morris (daughter of Benjamin and Apselia Morris) in Hancock County, GA. They moved to Crawford County with Nancy's parents, and had two daughters: (1) Martha S. Brimberry (1822-after 1887) married James W. Stembridge, son of John and Sarah Stembridge; and (2) Mary (1823-1891) married Morgan Hancock (1816-1882), son of John and Eleanor Hancock.
George Anderson Brimberry died c.1828. His widow, Nancy, married Littleberry Ogburn in 1846. Daughters, Martha (Stembridge) and Mary (Hancock), remained in Crawford County where Morgan Hancock later became sheriff.
James W. and Martha (Brimberry) Stembridge had 8 children: Sarah; Nancy (m. a Mr. Andrews); William; Joseph B. (m. Sarah Patterson); Marietta; Emma; Lydia; and Martha (m. M.H. Slocum). Tina Peddie's ancestors
Morgan and Mary (Brimberry) Hancock had 6 children: Sarah E. (m. B.F. Kennedy); Martha V. (m. A.J. Burnett); John R. (m. Martha Smith); Nancy G. (m. J.Z. Smith); Erastus K. (m. Martha Hatcher); and Edgar E. (m. Mollie Yarborough).
Matthias Brimberry
Edit
7.1.5 Matthias Brimberry (1799 SC-1854/55 TX)married Elizabeth Minton (daughter of Joseph and Lucretia Minton) in Greene County in 1827. Elizabeth's father died in 1809 in Hancock County. In 1821, Joseph Minton's widow, Lucretia married Joseph Martin who died in 1824. Reverend Lovick Pierce commented on her passing in the Methodist Southern Christian Advocate in 1837, stating she united with the Methodist church in 1802.
Morgan County records show that Lucretia (maiden name unknown) Minton Martin in 1829 gifted household items and other valuables to her daughter Apsey Minton Thompson's four children. Apsey was Elizabeth Minton Brimberry's sister and the wife of Joseph Thompson, all of Morgan County. See George Washington Thompson family.
Matthias and Elizabeth (Minton) Brimberry appeared on the 1830 census in Madison where Matthias plied his trade as a wagon-maker before moving to Monroe. His father probably died about this time, leaving him with responsiblity for his younger siblings inasmuch as his two older brothers had died 1828/1829 and his younger brother and sisters (William H., Susan W., Elizabeth, Amelia C., and Armanda Brimberry) all married between 1830-1838 in Morgan or Walton County.
Matthias was elected captain of Walton County's 417th militia district in 1831; and moved to Copiah County, Mississippi about 1837 and to Claiborne Parish, Louisiana around 1842. In 1852, Matthais moved his family to Houston County, Texas where he died about 1854/56. Elizabeth (Minton) Brimberry saw five sons ride off to war, two of whom are pictured below. Elizabeth died before 1870.
Matthias and Elizabeth (Minton) Brimberry had seven children:
(1) John M. Brimberry, born 1828 in Morgan County, married Mary L.E. Jamerson in 1852 in Cherokee County, Texas. Childless, they probably died in mid-1850s cholera epidemic which swept Texas.
(2) James Brimberry, born 1830 in Morgan County, married Martha Cannady about 1858 in Houston County, Texas. James, along with brothers, Peter and George, served in Randal's 28thTexas Cavalry Regiment. James was killed in a skirmish in White County, Arkansas and is buried beside several fallen comrades and foes in Old Dogwood Cemetery, five miles south of Griffithville. He and Martha had one son, Jasper, who died young.
(3) Mary Brimberry, born 1832 in Walton County. Married Robert J. Beard, Jr. about 1855 in Texas and died before 1860. She and Robert had one son, Thomas J. Beard (1856 Texas- 1917 Logan County, Arkansas). Robert moved to Arkansas and was killed during the Civil War. An orphan, Thomas married first Eudora Smith (1858-1899). Their 9 children, all born in Logan County, were: Susan (m. Elmer Frost); John W. (m. Martha Friddle); Omer D. (m. Clara Mills); Thomas J. (m. Flora Denton); Marietta (m. Walter Hawk); Alberta (m. S. Archie Penicks); Alma (Bert Young); William F. (m. Ethel Hoover); and Herbert C. (m. Mary Woodall). Nina Strahm's ancestors
(4) Elbert Brimberry, born in Walton County about 1836, married Mary (Polly) Denson in 1864 in Anderson County, Texas. Elbert died in 1884, age 48, leaving behind his wife and four children: George T. (m. Etta Kincaid); Lucy A. (m. William Dotson); Miles (unmarried); and Zackary (unmarried). Elbert served in Parker's Brigade, Walker's Division.
(5) Peter Brimberry, born 1838 in Copiah County, Mississippi, married Letha Ann Hollingsworth in 1865. Also served in Randal's 28th Texas Cavalry. A school teacher, he moved to Nevada County, Arkansas, near his cousin, Dr. Jerry C. Darnell (see Amelia C. Brimberry-Dixon W. Darnell below).

Peter Brimberry died 1880, age 42, whereupon his widow returned to Houston County, Texas. They had 6 children: Matthias Jot (unmarried); Ida E. (m. W.T. Totty); Ada M. (m. Thomas Herbert Leaverton); John W. (unmarried); Emma (m.Thomas Herbert Leaverton after Ada died in childbirth), and Seth (moved to Arizonia where he married, no children).
(6) William Henry Harrison Brimberry, born 1842 in Claiborne Parish, Louisiana. Never married. Fought at Vicksburg in Waul's Texas Legion. Died 1900 in Houston County, Texas.
(7) George Anderson Brimberry (1843-1923), nicknamed Gray, born in Claiborne Parish, Louisiana. Served with brothers, James and Peter, in Randal's 28th Texas Cavalry Regiment. Married 1870 to Nancy Jane Denson (1851-1932).

Nancy and her sister Polly, wife of Elbert Brimberry, were the progeny of John and Mary Ann (Crawford) Houston Denson. Mary Ann Crawford's first husband was a relative of General Sam Houston and was killed in the Surveyor's Indian Fight near Dawson in 1838. Mary Ann's parents were Joseph Crawford and Mary (Polly) Cauble/Cobble, of Rowan County, NC. John Denson and his parents, Thomas C. and Polly Denson of Anson County, NC, migrated to Texas before the war for independence from Mexico.
A Confederate pensioner, George A. Brimberry died in 1923. A farmer, he donated land for the Sunset Christian Church near Grapeland. George A. and Nancy (Denson) Brimberry had 7 children: William M. (m. Cora Price)---this writer's paternal grandparents; James S. (m. Julia Green); Fannie (died young); Lydia (m. John James); Roxie Ann (m. Joe Colkin); Ben F. (m. Beulah Owens); and Marshall L. (m. Eula Coleman).
Rditor's Note: Three Y-DNA project participants, Kevin Brimberry , Will Olan Brimberry, Jr. and this writer, Jerry Brimberry, are descended from George A. Brimberry and Nancy Denson. Their eldest son, William M. and Cora (Price) Brimberry were Will's and my paternal grandparents. James S. and Julia (Green) Brimberry were Kevin's paternal great-grandparents.
For additional information on the Houston County, Texas line see "History of Houston County, Texas" published in 1979.
Susan W. Brimberry
Edit
7.1.6 Susan W. Brimberry (1803 SC-1868 GA) married Alfred Shaw (c.1806 GA-1881 GA) in 1830 in Morgan County, Georgia. He was the son of Elizabeth and Alfred Shaw, Sr. Alfred, Jr. was a merchant and operated a furniture store in Madison until his death. A fire which started in his furniture store destroyed much of the downtown area in 1869. His brother, Horace Thompson Shaw, was a physician in Newton County. Susan and Alfred Shaw, Jr. lived near the Madison Methodist Female Academy and were active communicants in the Methodist church.
Alfred and Susan (Brimberry) Shaw, Jr. are thought buried in Madison City Cemetery near their two daughters and Alfred's mother. Alfred and Susan (Brimberry) Shaw, Jr. had six children:
(1) Felix Bryan Shaw (Dec. 11, 1831 GA - 1900/10 TX). A physician, he and his wife, Theada (or Thiela) were married in 1863. She was born 1845 in Alabama 1845. Childless, they moved to Milam County, Texas by 1880, where they adopted a son, who was born in Germany, and named him Horace. In 1900 they were living in Navasota (Grimes County), Texas where Felix lived to a "good old age". His widow and adopted son appear on the 1910 census near Dayton (Liberty County), Texas where Horace listed his occupation as a "timber man".
(2) Charles Wesley Shaw (Jan. 27, 1834 - March 13, 1834, infant).
(3) Harriet Louisa Shaw (June 30, 1835 - March 16, 1845, age 9).
(4) Ann Elizabeth Shaw (Nov. 18, 1837 - March 25, 1855, age 17).
(5) Horace Thompson Shaw (April 9, 1840 - March 10, 1870) married Sarah Rebecca Rogers (1842-1918) in Madison about 1863, and served in Co. K, 5th GA Infantry. Three children: Simeon R., Horace T. and Susie.
Simeon R. Shaw (1864 GA-after 1910 TX) was a Methodist clergyman. According to family records, he helped co-found Southern Methodist University. He and his wife, Ada, were married in 1881. A year later, their first child was born in Japan while serving as missionaries. They had 8 children (Horace T., Sarah M., Simeon, John F., Alla W., Curran R., Jessie, and Katherine). Census data indicate that, after returning from Japan, Simeon R. Shaw and his family lived in Georgia between 1896-1901, in Alabama around 1904, and moved to Texas between 1905-1908. In 1910, Simeon and his family were living in Colorado City, Texas in Mitchell County, 250 miles west of Dallas. He died in Tennessee.
Horace T. Shaw (1867-1937) married in 1891 to Mary Bonner (1870-1919). Three children (Judson B., George S., and Neva May). Director and first cashier at the Bank of Madison which was founded by his kinsman, George B. Stovall. Facilitated construction of First United Methodist Church and lived in the Victorian house pictured below at 364 Porter Street. Married second, Mattie May Hutchinson, widow of Leonidas Ignatius Few and moved to Atlanta, where he died in 1937. He is buried in Madison City Cemetery.
Photo #3 of Shaw Residence - 364 Porter Street, Madison
Susan W. Shaw (1869 GA - 1955 GA) married Hubert L. Simmons (1868-1956). Both buried Madison City Cemetery.
(6) Alfred Homer Shaw (1840 GA - Feb. 17, 1879), Pvt. Co. D, 3rd GA Infantry. Never married.
Elizabeth Brimberry
Edit
7.1.7 Elizabeth Brimberry (1813 SC-1844 GA) married Fielding W. Arnold (1788 NC-1865 GA) Madison in 1832. Son of James Fielding Arnold (1754 Halifax County, Virginia - 1825 Monroe, Georgia) and Bethany Bailey (1770 -1850). James Fielding Arnold was a Major in the North Carolina militia during the American Revolution.
Fielding W. Arnold, husband of Elizabeth Brimberry, was Morgan County Court of Ordinary from 1848 until his death in 1865, when he was succeeded by his son-in-law, George Bishop Stovall. Fielding W. Arnold's original residence at the end of Kolb Street is pictured below. His 220 acre tract west of the railroad included the new section of Madison City Cemetery. According to deed records, he later moved to the intersection of Kolb and Academy Streets, near Frederick Foster.
Insert Photo of Fielding W. Arnold's Original Residence - Kolb Street

Fielding W. and Elizabeth (Brimberry) Arnold were active communicants in the Methodist Church. Their two daughters, Laura and Irene, were quite young when their mother died at age 31.
(1) Laura J. Arnold (1838-1921) married George Bishop Stovall (1835-1906) in 1862. Son of John and Martha (Bishop) Stovall, George B. Stovall served in Co. B, 3rd GA Infantry, and was a merchant and banker. Laura was very active in the Methodist Church and her portrait is displayed in the old Sunday school room of First United Methodist Church . They lived for many years in what is now the Parish Hall of the Episcopal Church of the Advent at 338 Academy Street, original site of the Madison Methodist Female Academy.
George B. and Laura J. (Arnold) Stovall had six children: Lena Stovall (1868-1937) married Joseph W. Adamson in 1893; Rosa Stovall, born 1870, married Henry Nolt Parker in 1892; George Stovall (1873-1899); Arnold Stovall, born 1878, married Harriett Lowenthal in 1900 in Pennsylvania, practiced medicine in Gastonia, NC; Julia W. Stovall, born 1880, married William H. Trawick in 1904; and Ida Stovall (1885 GA -1953 GA) married Osgood Clark in 1908.
(2) Irene E. Arnold (1840-after 1900)
married Solon Zackary Ruff (1837 GA - 1863 Tennessee) on May 17, 1860. S.Z. Ruff's father, Martin L. Ruff, and a business partner, Robert Daniell, erected and operated the Concord Woolen Mill, a saw mill, and a grist mill on Nickajack Creek near Smyrna in Cobb County. The site is known as Ruff's mill. A covered bridge built by Ruff still stands and is a local landmark.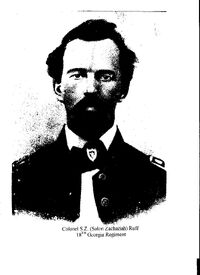 A professor of mathematics at the Georgia Military Institute in Marietta, [
Colonel S.Z. Ruff, 18th Georgia Regiment
], was first married to Susan Varner in 1857. Susan died in 1859 leaving behind an infant son, Martin Varner Ruff. War erupted soon after S.Z. and Irene (Arnold) Ruff married and moved to Marietta to resume his GMI faculty position.
S.Z. Ruff
was elected Lt.-Col. of the 18th Regiment GA Infantry in Longstreet's Corps, quickly distinguished himself in battle at Gaines Mill, Second Manassas, Antietam, Fredericksburg, Chancellorsville, and Gettysburg.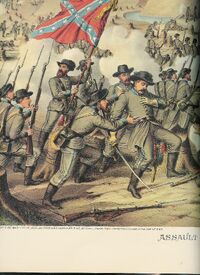 Promoted to Colonel at age 26, he was killed while leading his men during the ill-fated assault on Fort Loudon at Knoxville, Tennessee on November 29, 1863, leaving Irene with an infant son, S.Z. Ruff, Jr and unborn daughter. Click on the above link for a fascinating account of the battle and the aftermath 50 years later when Col. Ruff's personal effects, taken on the field of battle by a Union cavalryman, were returned to his family.
Irene (also Irena) Ruff and her son S.Z., Jr. lived with her sister, Laura, and brother-in-law, George B. Stovall, for a number of years and taught music. In 1878, she sold her interest in her father's property to George B. Stovall, apparently never remarried, and moved to Atlanta, where she last appeared on the 1900 census. S.Z. Ruff, the civil engineer who designed Ansley Park in Atlanta in 1911, is believed to be her son.
William Harrison Brimberry
Edit
7.1.8 William Harrison Brimberry (1814 SC-1889 GA) took over his brother Matthias' wagon-making business in Monroe, when Matthias moved to Mississippi. In 1838, William married Araminda Reynolds (1822-1879) in Monroe, GA. They later moved to Greene County Before moving to south Georgia, William Brimberry and his family often exchanged visits and letters with their Arnold and Shaw relatives in Madison.
The exodus of this family from Greene County to south Georgia began in 1857 with William H. Brimberry's eldest son and was completed in 1868 following the marriage of William H. Brimberry's daughter. William H. and Araminda (Reynolds) Brimberry had five children:
(1) William Washington Brimberry, infant, buried Old Alcovy Cemetery in Monroe.
(2) Benjamin Franklin Brimberry (1839-1927) married Juliett Hodges in 1860 after moving near Albany to teach at a select school after graduating from Irving College in 1857. B.F. enlisted in Co. C, 2nd GA Cavalry, and was promoted to Major and quartermaster of hospitals during the Atlanta campaign. He was elected to the State Senate 1863-64 and 1873-77, and appointed U.S. Marshal of South Georgia in 1886, and as Albany postmaster from 1899-1902. He is buried in Albany's Oakview Cemetery, and was Peter and Dicey Brimberry's last surviving grandchild.
(3) Marion Francis (Frank) Brimberry (1843-1909) married first Henrietta Hodges (1843-1882), daughter of the president of Andrew Female College in Cuthbert. Their children: William Harrison, Emma E., Alvin B. and Thomas E. Marion Francis Brimberry married second Nannie Hamilton (once child, Nannie Grace). He also served in Co. C, 2nd GA Cavalry, taught school in Mitchell County, operated a drug store in Camilla, and was a highly successful businessman.
(4) Martha Brimberry, born 1845, married Augustus Tuggle in Greene County in 1868 GA. They also moved to Camilla..
(5) Thomas Walton Brimberry (1848-1905) married 1880 Lena Parker (1862-1945) in Mitchell County. Five children: Nannie, Edna, Neva, Walter and William McKinley Brimberry. Thomas also taught school in Mitchell County, and was a successful businessman and respected community leader. Thomas, his parents and brother, Marion F., are buried in Camilla.
Amelia Caroline Brimberry
Edit
7.1.9 Amelia Caroline Brimberry (1817 SC-1887 Arkansas) married Dixon W. Darnell (1808-1871) about 1838 in Georgia, possibly Walton County. Morgan County records show Joseph Darnell was appointed Dixon W. Darnell's guardian in 1825 following the death of his father, Jeremiah Darnell. Amelia, too, is thought to have lived in Morgan County with her siblings.
Amelia and Dixon Darnell children moved from Georgia to Camden, Arkansas in Ouachita County around 1850. A mechanic by trade, Dixon built and operated the Lone Pine Ferry and became a prosperous businessman. Amelia donated land to build a Methodist church and maintained contact with her Brimberry kin in Morgan and Talbot County, Georgia and Houston County, Texas. Ameilia and Dixon had six children:
(1) Frank Darnell, born 1839 in Georgia. Killed at the Battle of Shiloh.
(2) Martha Darnell, born in Georgia in 1846. Married a Mr. Smith.
(3) Emily R. Darnell, born in Georgia in 1848. School teacher. Married W.H. Buffington in Camden in 1867. Died in 1893.
(4) Ida Darnell, born in Arkansas in 1852 (no additional information).
(5) Jerry C. Darnell, born in Arkansas in 1856. Physician. Married Alice Marsh in 1885.
Lived in adjoining Nevada County where his cousin Peter Brimberry moved to from Houston County, Texas.
(6) George H. Darnell, born in Arkansas in 1858. Died after 1881.
Armanda Brimberry
Edit
7.1.10 Armanda Brimberry (1822 SC-after 1870 GA) married David Barron in Walton County in 1835. He was a shoemaker by trade and they moved first to Pike County, then to Talbot County. They were childless and last appeared on the 1870 Talbot County census.