This text is collapsible.
Peter Zezima (Born January 21, 1980) is a person who is best known for playing a game called "RuneScape", because he achieved the first place in Hiscores of RuneScape players. But later he quit the game, because he though he was too old for games and he had a girlfriend named Rachael and later they married. On Rachael's YouTube profile it said that she has a 8 month year old son Grayson. Skyler is probably the father of the baby.
RuneScape
Edit
This text was taken from RuneScape Players Wiki page Zezima (view authors).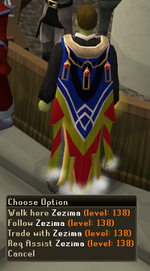 As mentioned above, Peter played a game called RuneScape. He was a cyberworld celebrity and Player Moderator who was the highest ranked person in RuneScape overall. Peter gave himself the username "Zezima" in the game. He started playing in 2001, after a friend showed him the game, and has been playing since. He was the first player to achieve level 99 in Slayer, a total level of 1980 and 2079, and one billion experience overall. Zezima has been cited as "arguably the most famous player of the game", and had been quoted in the back of the book Betrayal at Falador. As of August 2012, he is ranked 57th in the RuneScape hiscores.


Children