Phineas Pratt
was born
1591
in
London
,
Middlesex
,
England
and died
20 April
1680
in
Charlestown
,
Suffolk County
,
Massachusetts
of unspecified causes. He married
Mary Priest (1612-1689)
1630 in
Plymouth
,
Plymouth County
,
Massachusetts
.
Vital Statistics
Edit
Born ca 1590 or 1592 - in London, England
Died 19-Apr-1680 - Charleston, MA
Married (1630) - Mary Priest, Niece of Plymouth Pilgrim - Isaac Allerton (1586-1658)
Biography
Edit
1622 Weymouth Settlement
Edit
In July 1622, two ships, (Swan and Charitie) arrive at Plymouth with a different group of adventures. They stay a couple of months before moving to establish a nearby at Weymouth (or Wesseagussett Colony). This groups is financed by Mr Thomas Weston. They are joined by a 3rd ship (Sparrow) with Phineas Pratt aboard. This groups fares badly with the Indians and is forced to abandon their settlement after a rescue by Plymouth militia.
Bowman in MD 4:87, 129 relates much of what is known about Pratt, including his role in alerting the Plymouth settlers about the plight of the Wessagusset settlers. See Pratt's own Petition, found in Mass. Historical Society Collections - 4:479 (4th Series).
In Sept 1623, the ship Katherine arrives with a group of settlers financed by Sir Ferdinando Gorges. They stop shortly at Plymouth before continuing onwards to the Weymouth Settlment.
Move to Plymouth Colony
Edit
One settler from the Sparrow, Phineas Pratt, after the breakup of the first Weymouth settlment, joins the group at Plymouth. Per the 1623 Plymouth Land Census, he is given a pair of lots to share with his brother. (When did his brother arrive.)
Move to Charlestown
Edit
After sometime, Pratt moved to Charlestown in the Bay Colony where he died in 1680 at age 90.
Marriage & Family
Edit
While in Plymouth Colony, Phineas marries Mary Priest, daugher of Mayflower pilgrim Degory Priest, and a niece of Isaac Allerton (1586-1658). Was married after the Land Division of 1627 and before receiving property from Cuthbert Cuthbertson in 1633. Mary Priest was a stepdaughter to Cuthbert.
His children are listed on his will.
Mary Pratt (1632-1702) - md John Swann
John Pratt (1635-) = md Ann Barker
Samuel Pratt (1637-1676) - md Mary Barker
Daniel Pratt (1641-1791)
Mercy Pratt (1643-)
Joseph Pratt (1647-) - Md Dorcas Folger
Sarah Pratt (1650-1727)
Aaron Pratt (1654-1735) - md 1st Sarah Pratt, 2) Sarah Wright Cummings
Children
Siblings
Vital Records
Edit
Charlestown Gravestone
Edit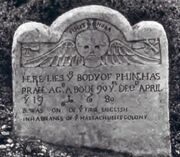 Gravestone Location: Phipps Street Burying Ground - Charlestown MA.
Gravestone Inscription:
HERE LIES Ye BODY OF PHINEHAS PRATT AG.D A BOUT 90 Y.RS. DEC.D APRIL Ye 19 1680 & WAS ONE OF Ye FIRST ENGLISH INHABITANTS of Ye MASSACHUSETTS COLONY
References
Edit